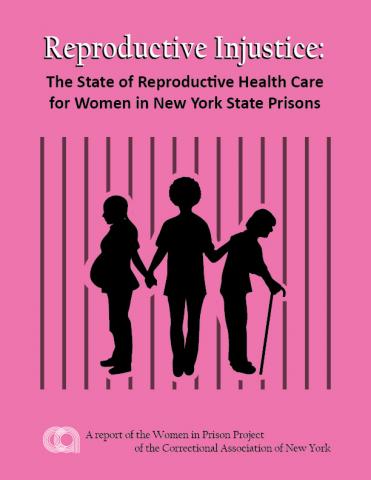 Looking Behind Prison Walls, Report Exposes Woefully Substandard Health Care for Women in New York
Today the Correctional Association of New York released a major report calling on the state to overhaul its substandard health care for the women it imprisons.
Reproductive Injustice: The State of Reproductive Health Care for Women in New York State Prisons draws on five years of research, including interviews with almost a thousand women in prison, data from more than 1,500 surveys filled out by women in prison, and reviews of health care policies and health services data.
Emerging from this rich trove of information is a story of deficient health care delivered according to policies that often fall short of standards in the community - and without any oversight from public health officials outside of the prison system.
Movingly illustrated with stories and quotations, the report also conveys the struggles of women in prison to assert their rights, get the treatment and information they need, and take care of themselves in a system focused on punishment and control rather than health.
That punishment falls disproportionately on low-income women of color from cities, who are often sent to serve their time very far from home. Indeed, "racism and gender oppression drive our tolerance" of deplorable prison conditions and of incarceration as a response to social and economic problems, argues Tamar Kraft-Stolar, author of the report.
Indignities of life in prison
Over the time I've worked as a consultant on this report, one of the findings that has always stayed with me is this: most women say they don't get enough basic sanitary supplies each month. Half said they don't get enough sanitary pads for their period and two-thirds said they don't get enough toilet paper.
In order to get more pads (prisons don't even give out tampons), women have to see a doctor and ask for a special "medical permit." In some cases, the doctor insisted that women save up all their used pads in order to "prove" that they need more.
At 12-24 cents per tampon (prices vary by prison), and 48 cents per roll of toilet paper, many women can't afford to buy additional supplies from the prison store. While these prices may seem low to those of us in the community (and may speak to the low quality of the products), the cost is steep for women who earn pennies per hour at prison jobs. A box of tampons can cost an entire week's earnings.
Access to basic hygiene is essential for health and personal dignity. The issue is so important that both the United Nations and the World Health Organization call on governments to provide women in prison with a free and adequate supply of sanitary materials.
The World Health Organization criticizes the way that prison administrators medicalize "women's normal human functions, such as menstruation," explaining that "health care personnel do not need to approve or manage access to sanitary napkins and the like" - taking aim precisely at the way that prisons in New York handle the issue.
Women who are pregnant, in solitary confinement, and growing older
Reproductive Injustice investigates everything from annual exams to treatment for cancer, as well as pregnancy-related care. In addition to prenatal care, the report describes conditions of daily life for pregnant women, including whether they get enough food to eat (the answer is no).
Prison rules deny women the support of friends or family during labor and then prevent women from spending time with their babies in the hospital, turning birth into something "scary," "stressful," and "lonely."
Critically, the report documents violations of the state's 2009 law against shackling, adding to evidence from around the country that these laws need strong enforcement mechanisms in order to deliver on the protections they promise.
Most women interviewed who gave birth after 2009 described treatment that violates the law, including being handcuffed to the rail of the hospital bed during labor and birth, even when doctors and nurses asked the officers to remove the restraints.
Other significant contributions of the report include sections on women in solitary confinement and women growing older in prison.  Although there may be as many women dealing with menopause in prison as dealing with pregnancy, we rarely hear about it.
While policymakers and the press are increasingly debating the fates of people in solitary confinement and people over age 50, their discussions are not usually informed by the experiences of women; this report adds new perspective to these important conversations.
The solution: alternatives to incarceration
New York has lowered the number of people in prison through drug law reform and alternatives to incarceration.
In addition to dozens of specific recommendations to bring health services up to prevailing standards, the report encourages policymakers to continue the positive trend toward alternatives:
This recommendation is critical because the best solution to the problems outlined in this report is to keep women, especially pregnant women and women with small children, out of prison in the first place.
To learn more about the Correctional Association's campaign for reproductive justice for women in prison in New York, visit this page.