Live From Britain: 50 Things For Kids To Do Outdoors Before They Turn 12
by Judy Molland
Britain's National Trust, an organization that preserves outdoor spaces as well as historic buildings in the UK, earlier this year announced a campaignto improve people's links with nature and wildlife.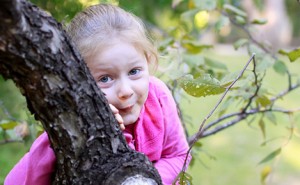 Photo by Design by Nicola
The Trust's director general Fiona Reynolds said that in particular, children needed freedom to discover nature for themselves, stating her belief that more children go to hospital having fallen out of bed than having fallen out of a tree.
Now we are finding out more details about this campaign.
The National Trust has come up with 50 things for children to do before they are 11 ¾. Five 'Super Rangers' at National Trust properties around Britain will teach children how to climb a tree, make a den, and skim stones in an effort to get kids off the couch and into the great outdoors.
Each ranger is an expert in certain activities. Tree man is a 6ft 3″ tree climbing expert who has scaled 50 metre-high trees, Captain Skim can skim a stone over 26 times, Den-Boy is an outdoor hideaway-building champion, Midas will lead treasure hunts and the Bug Catcher can identify 300 species of moth. You can see a photo of these Super Heroes by clicking here.
From The Daily Telegraph:
The new initiative comes after a report commissioned by the Trust found children today spend fewer than ten per cent of their playtime in wild places. Instead the younger generation spend an average of two-and-a-half hours a day watching the television.
Dame Fiona Reynolds, the Director General of the Trust, said children need to reconnect with nature by playing the games generations before them have enjoyed.
"Children today are unfamiliar with the countryside. They need to be given the confidence and the skills to go into the wood and build a den or climb a tree."
Here's The List Of The First 10 Things to Do Before You're 11 ¾:
1. Climb a tree
2. Roll down a really big hill
3. Camp out in the wild
4. Build a den
5. Skim a stone
6. Run around in the rain
7. Fly a kite
8. Catch a fish with a net
9. Eat an apple straight from a tree
10. Play conkers
Click here to get the rest of the list. And have fun: you don't have to be a kid to enjoy getting outside and playing!
This post first appeared at care2.com Causes.