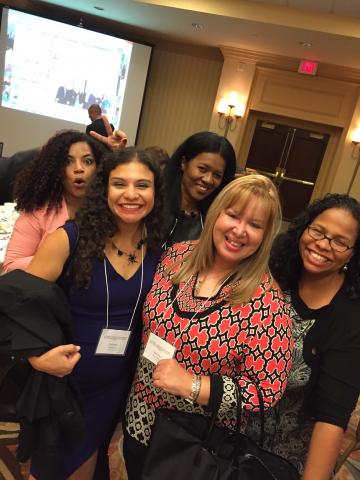 Like Being At Home: LATISM 2014
ANAHEIM, Calif. -- The above photos say it all. The jovialness, the going back and forth between Spanish and English, the food and the conversations (more on that below) all remind me of...home. Home meaning my childhood home in Miami, Florida with a Cuban father and Puerto Rican mother. Home now in California with a bilingual Salvadoran-American husband and two bilingual children. 
No matter the language you speak or how passionate you are on a topic, you are always welcomed home like familia.
This was how I felt at the Latinos in Tech Innovation and Social Media (LATISM) 2014 conference last Friday. I was honored to have been invited to participate on a panel discussion about mobilizing the Latino community to live healthier lives. My presentation, which I gave in Spanish, largely focused on junk food marketing to Latino youth, and what parents could and should do to help our children make the right choices.
I was also tickled to see old and new friends -- Latina writers and entrepreneurs I have long admired. Mil gracias, amigas, for these fabulous photos and tweets from my panel, which I co-presented with Zach Fishbain (pictured on right), founder of Chispa Digital:
Following my panel, we had lunch and were treated to an informative and moving discussion on the child refugee crisis. (Read more about it on MomsRising.org here.)
The panelists were from left to right -- apologies in advance for the terrible lighting! -- Luis Patiño, Senior Vice President of Univision; Dr. Arturo Gonzalez, a member of the American Academy of Pediatrics directly working with child refugees in Arizona; Susan Can, Director of Digital Strategy and U.S. and Global Cross-Sector Partnerships of Johnson & Johnson; Carlos Carranza, Executive Vice President and Chief Operating Officer of Save the Children; and a panelist from Catholic Relief Services, who was added last-minute therefore not listed on the program. The discussion was moderated by Gabriela Tessier, a news anchor for Noticias 34: Primera Edición in Los Angeles. 
The panelists conceded that the children, despite escaping unspeakable violence in their native countries, were further traumatized in U.S. detention centers without basic sanitation. The panelists also viewed the plight of the kids as a humanitarian crisis -- and not political.
I was especially moved by each panelist's reasons -- whether corporate responsibility, faith or simple human decency -- to report the truth and help these children. "Not taking a stance is a tacit agreement of the status quo," the spokesman for Catholic Relief Services said. 
Later in the day, AARP hosted an informative panel on Latino baby boomers. After hearing about the experiences of boomers going online for the first time and resources available, it made me want to be a little more patient with my own mami and papi whenever they have tech questions. :)
Last, but certainly not least, you cannot be in a room full of Latinas and not take a picture of shoes! ¡Hasta el año que viene!