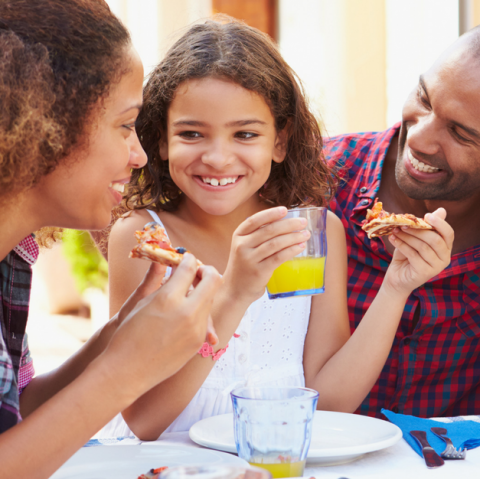 Let's Make the Healthy Choice the Easy Choice for NYC!
It's a busy time of year for families, as children head back to school. Parents know: it's often all we can do to make it through the day in one piece. Our hats are off to you!
Parents like us work hard to make sure our children have the healthiest and happiest day possible. And sometimes that includes eating out. In fact: research shows that half the meals in the US are purchased outside of the home, and children get an average of 25% of their calories from restaurant foods and beverages. [1]
In addition, sugary drinks are the single biggest source of calories in the diets of kids under 13, contributing between 10-15 percent of their daily calories! [2]
That's why new efforts to encourage healthy restaurant meals in New York City are so exciting. The NYC healthy kids' meal bill (Int. 1064-2018) will make healthy drinks like water and milk the default choice in restaurants. (And if a parent still wants to order soda for their family, they can!)
Help us push this one over the finish line. Click here to send a note to the NY City Council Health Committee!
The bill was introduced by Councilman Ben Kallos, and now Speaker Corey Johnson has officially endorsed it too! The next step is a hearing in the City Council Health Committee, which will move the bill towards a vote. This is an important time for us to make our voices heard.
We know that our children and families can't achieve a healthy day alone. Schools and restaurants must back us up by offering healthy options that support the choices we make for our families. For example, by offering water or milk as a default drink, instead of soda.
Sugary drinks are particularly dangerous for our children. Drinking just one sugary drink a day increases a child's likelihood of being overweight by 55 percent. And children who frequently consume sugary drinks are nearly twice as likely to have cavities than children who consume mostly milk or water. [3] Parents need our family eateries to work with us by offering healthier choices on their menus for children.
We've made tremendous progress in recent years, and this is an exciting chance to keep it going. In fact, major fast food chains including Burger King, IHop, Wendy's, Applebee's and more have all removed soda as the default drink in kids' meals. And schools have ushered in new healthy meal and snack standards that limit sugar, caffeine and certain fats. Win-win-win for kids, families and communities. And for businesses too! As parents we wield tremendous economic power, and companies are responding to what we're looking for.
Let's keep that momentum going in New York City! Join us to help push this exciting effort over the finish line, and send a message to the New York City Council Health Committee today.
[2] ibid
[3] ibid