Take Crafty Action!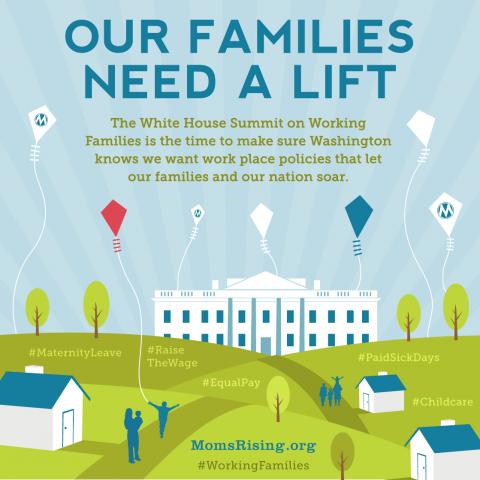 Let's Fly a Kite for Working Families!
Would you gather some friends (or even gather just your kids or grandkids) and draw on a paper kite that we can send to President Obama (and deliver to Congress too!)?
http://action.momsrising.org/signup/OurFamiliesNeedALift/
What for? Because on June 23rd, President Obama is convening a White House Summit on Working Families to focus on strengthening our nation's workplaces so working families, businesses' bottom lines, our national economy, and America's global competitiveness in the coming decades can thrive.  
We need you, your kids/grandkids, and your friends to decorate paper kites with the top changes you want to see in our workplace policies. Then send those decorated paper kites to us, and we'll send them soaring at the White House Summit--and then we'll deliver them to Congress too! 
*Sign up now, and we'll email you everything you need! It's easy, and it will have a big impact! 
It is painfully clear that right now our families and our economy need a lift. Women are now 50% of the labor force for the first time in history, but our public policies are still stuck in the Stone Ages. Some needed changes that we've recently heard our members bring up--and that you might want to put on your kite too--include: 
Childcare that's affordable, accessible, and high-quality 
Paid family leave (maternity and paternity leave)
Equal pay for equal work 
Raising the minimum wage
Paid sick days
You live it, we know it - and we all need folks in Washington, D.C. to know it too! 
*Sign up now to do a kite-making gathering and send your top policy priorities to Washington, D.C.! Imagine a sky full of kites in our nation's capitol! Help create this show of force that cannot be ignored! 
It's time for us to raise our voices. And momentum is growing for change. More and more people are waking up to the fact that we have a problem that together we can fix.  Our national "floor" for workplace policies is way too low. When the United States is one of only four countries in the world (the others being Papua New Guinea, Swaziland and Lesotho) that doesn't provide some kind of paid family leave after a new baby arrives, something is very wrong. When having a baby is a leading cause of poverty spells, SOMETHING IS DEFINITELY WRONG! The bar is too low for our workplace policies -- we can and must do better.
Let's raise the bar with kites! 
Make your voice heard by making kites for what you and your family need to be able to take decent care of your family AND your job. 
*Don't worry.  This is easy and won't take much time.  We'll send you everything you need to make your paper kites, so grab your friends and kids. You can have a blast AND make a difference!  Sign up to make kites that we'll fly at the White House Summit on Working Families and then deliver to Congress!
The more of us who make our voices (and our kites!) heard, the bigger the impact we'll have together. So please forward this email to friends, and post the action link on Facebook and Twitter so others can make kites too.      
We will rise together and create the change we need to see in our workplaces so that they work for our families!
  
P.S. No time to organize a discussion? We get it! You can still make a kite, and send your message soaring! Just click here!