Let's just say, I'm very glad that Congressman Todd Akin is not MY doctor - or any woman's doctor.
This weekend, Congressman Akin from Missouri explained his understanding of the chance of pregnancy as a result of a rape the following way: "If it's a legitimate rape, the female body has ways to try to shut that whole thing down." [1]
What?!  That's completely inaccurate and downright offensive.
While other leaders are now distancing themselves from Rep. Akin's inaccurate statement, don't be fooled - candidates are still gearing up to use this year's election to gut the health care law that gives women REAL health care, including eight critical prevention services (see list below).  In fact, over the last two years, some members of Congress have tried more than 30 times to repeal, defund, and derail our health law despite strong public support for prevention services.
Women need doctors - not extremist politicians - caring for our health.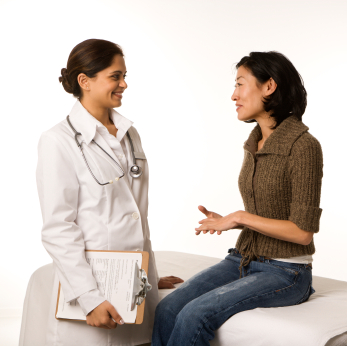 It's time to fight back.
* Can you contribute $8 today to help us fight back?  (Why $8?  To celebrate the "Super 8" new women's prevention services covered without co-pays, of course!)
https://action.momsrising.org/donate/Donate4Super8/

In the next few months leading up to the November election, MomsRising will unleash the most powerful spokespeople of all – our members who are living healthier, saving money, and feeling more secure as a result of health reform. We'll fight back on social media, radio, television and email so we can reach millions of people with the truth.  And we'll open multiple avenues for women, men, moms, dads, grandparents, and people across the nation to have their voices heard by members of Congress that now is not the time to turn back on our health.
We have a lot to protect!  The "Super 8" new prevention services for women include:
* Well-woman visits
* Gestational diabetes screening
* Breastfeeding support, supplies, and counseling
* Interpersonal and domestic violence screening and counseling
* Contraception and contraceptive counseling
* HPV DNA testing
* Sexually Transmitted Infections (STI) counseling
* HIV screening and counseling [2]
With your support, we'll leverage the public's interest in the election and health reform to let Congress know that healthcare remains a priority, as well as to share the stories about real moms and families' experiences with the new health care law.  Moms like Cindy in Florida, whose insurance policy required her to pay a $5,000 deductible before it would cover any prevention or tests, like a mammogram or colonoscopy. [3] Or Erin in Illinois whose insurance policy specifically excluded covering anything pregnancy- related, including critical prenatal visits. [4]
A relentless contingent of members of Congress have already tried to overturn the healthcare law over 30 times in just two years – and they are guaranteed to keep trying. [5] Right now, the insurance industry is pouring money into campaigns in order to influence Congress and candidates -- and we need to ramp up our healthcare campaign too!
Can you help with a contribution of $8 or more to our MomsRising healthcare campaign today?
https://action.momsrising.org/donate/Donate4Super8/
And, please remember to share this message with your friends and family right now so we can all stand up for the health of women, children, and families!
P.S. Want to learn more about the "Super 8" new Free Women's Preventative Health Services--and about how you (and yours) can get access to them?  Listen in to our lively conversation about the "Super 8" with doctors, experts, and policy makers on our iTunes podcast of 
MomsRising Radio with Kristin Rowe-Finkbeiner
this week here:
itunes.apple.com/us/podcast/moms-rising-radio/id533519537
CITATIONS
[1] New York Times, August 20, 2012
[2] Prevention Services Covered Under the Affordable Care Act, www.healthcare.gov
[3, 4] MomsRising Healthcare Stories Map
[5] CNN, July 11, 2012