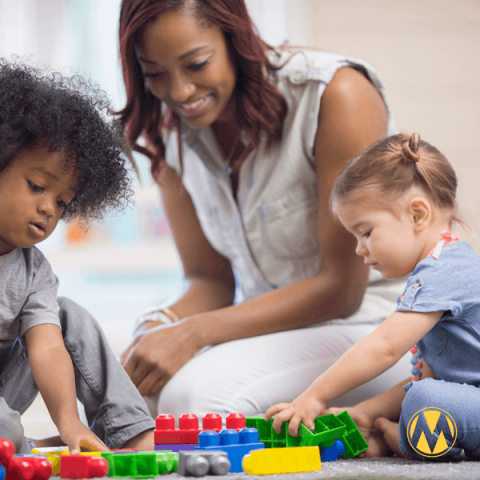 Leave the games to the kids, we need child care NOW!
I don't know about you, but up here in New Jersey where I live with my two boys, it's been a pretty rainy summer. And one thing I love to do on rainy days is play indoor games with my kids. You know, Twister, Candyland, Hide and Seek, the classics that I loved when I was young. Games are great for rainy days, but not so much when it comes to child care policy decisions. 
This is why we need to tell Congress right NOW to leave the rainy day games to our kids and robustly fund child care! Raise your voice with ours ASAP!
Right now, Congress is rapidly finalizing the details of the budget that will determine how much funding we have for child care and early learning. This is a crucial week to let Congress know that we need sufficient funding for child care and early learning so that:
No family pays more than 7% of their income on child care
Child care providers are paid living, family-supporting wages
Families can find affordable, high-quality child care no matter where they live
We must let Congress know that the lack of child care is NOT a game. 
Child care is the very backbone of our economy, a public good that all of us benefit from whether or not we have young children. Without child care, our families, our communities, our businesses, and the economy would not function. 
Women and moms, especially women and moms of color, have taken the most responsibility for caring for our kids, our sick family members, our aging relatives and neighbors, and supporting the people in our lives with disabilities; all while sacrificing their own careers and wellbeing in the process. Add this to the inordinate cost of infant and toddler care, where families with an infant or toddler spend about 50 percent more on child care than families with a preschooler, and the price of infant care being higher than public college tuition in most states (!), then it's clearer than ever that our families cannot lose their turn to get the childcare support they need! [1]
As part of valuing care, we must also support the women - disproportionately Black, brown, and immigrant women - who provide it. Child care work is one of the lowest-paid professions in the United States. You read that right. The folks caring, nurturing, and educating our kids are some of the LOWEST paid workers in our nation. That is despite important requirements for credentials and education for the workforce and extensive research pointing to the importance of the early years for young children's healthy development and future outcomes. The continued undervaluing of early education leaves many child care workers (1 in 7), many of whom have their own children to support, living below the poverty line, and only 15% have access to health care. [2]
We can't keep rolling the dice on child care. Tell Congress to stop playing games and robustly fund child care in the final reconciliation package!
The past year and a half of the pandemic revealed that our reliance on the underpaid and undervalued caregiving work of women, and particularly women of color, places an unsustainable burden on those women, their families and the economy overall. Yet even before COVID, working people who most needed access to these vital supports were least likely to have it. [3]
The effect on the future generation of workers and our economy when families miss out on the good care options they need cannot be understated. The lack of affordable, high-quality child care costs about $57 billion a year in lost productivity, wages, and revenue. [4]  This hinders mothers and caregivers' abilities to support their children and families, as can be evidenced by the fact that just this past June, while women accounted for 47.6% of job gains last month, they will still need more than 9 straight months of job gains at last month's level to recover the nearly 3.8 million net jobs they have lost since February 2020. [5]  Investing in child care is a critical step toward gender parity, investments in high-quality, affordable child care could boost women's lifetime earnings by $130 billion! [6]
Leave the games to the kids, tell Congress we need child care NOW!
We need YOU to help us make the game-winning spin on child care this week.​​ To take further action after signing this action, Text "childcare" to 747464 to tell Congress to invest in child care now! 
Our nation can choose to provide quality child care and ensure all our families are able to thrive. We need to create a child care system that meets the needs of children, families, communities, and child care providers. Please take action and also forward this email and post the action link on your social media. Now is the time. 
Together, we can make a difference. Join us in raising our voices for childcare!