LATISM '13 (Video and Pics Included!)
Photo below from left to right: me; Sylvia Aguilera, director of government relations for McDonald's Corporation; Jes Sofia Valle, CEO of the Bloggers of Health network; Ana Roca Castro, founder of LATISM, education tech developer and CEO of Plaza Familia; and Laurita Tellado, the force behind the Holdin' Out for a Hero and Expresso con Leche communities.
New York, NY -- As I mentioned in two previous blog posts here and here, I was gone three of four weekends in September for conferences.
Last stop? The Latinos in Tech Innovation and Social Media (LATISM) annual conference at the Waldorf Astoria in New York. The conference was bigger and better than previous years and lived up to its venue -- my first time at the Waldorf Astoria in Manhattan! Wepa!
In general, LATISM conferences have four tracks: business, education, health care and technology. I was there on behalf of MomsRising.org to participate in a health panel. But I stayed throughout the conference to attend other sessions, including this health discussion on stage between social media entrepreneur and CEO Ana Flores and Univision's chief medical correspondent Dr. Juan Jose Rivera: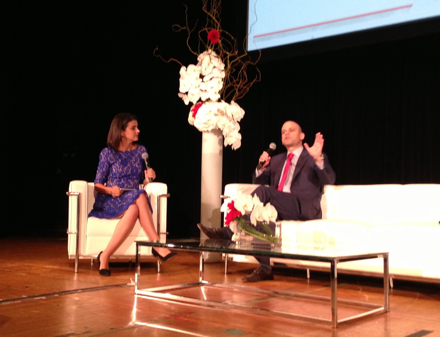 I thought that the conference struck the right balance between professional development, entertainment and social good or "giving back" to the community. Pictures alone wouldn't do justice to all that I saw so I took a lot of video, including this beautiful rumba performance by Ballet Hispanico:
I was proud of LATISM for hosting an immigration rally in front of the United Nations building in New York. They called for volunteers so I helped distribute posters and rain coats. But not until I got to see salsero Willie Colon speak. I work out to his music all the time!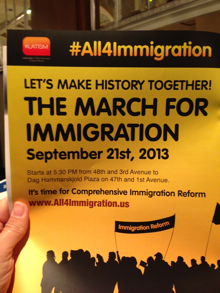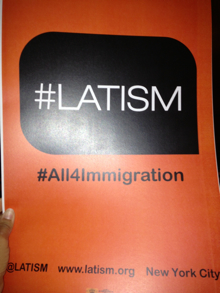 Photo below from left to right: Noelia Rodriguez, publisher of the Turbulent-Times; local pediatrician Dr. Nelly Maseda; Diana Limongi, MomsRising member extraordinaire, publisher of the LadyDeeLG blog and freelance writer for NBC Latino, among other publications; me; and Deldelp Medina, a tech entrepreneur in the San Francisco Bay Area. Picture on right: Diana Limongi touts her "It's Time To Use Our Outside Voices" MomsRising tote bag!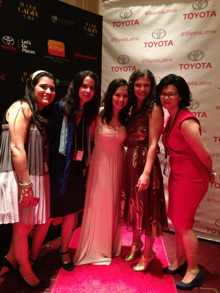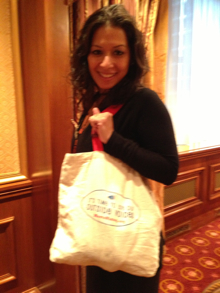 And speaking of the amazing Diana Limongi, thanks to her, we have photos and video footage of the food panel I participated in. Photo below from left to right: I sat on a panel titled "Latinos & Obesity: Big Ideas Needed" with Lisa Pino, President and CEO of the United Food Bank of Arizona; Carmen R. Isasi, Assistant Professor of the Department of Epidemiology & Population Health at Albert Einstein College of Medicine; Catarina Rivera, Health Changemaker at Harlem Children's Zone; and Jose Martinez, owner of Pix-l Graphx.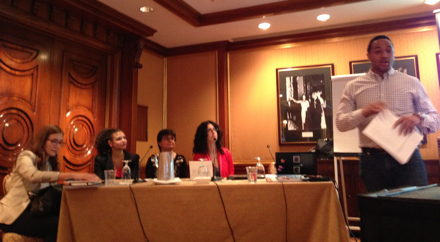 The discussion was robust and well-attended by pediatricians, advocates and people simply seeking information. Isasi went over the reasons for the Latino community's higher than average obesity rates while I focused on MomsRising's education campaigns -- like our blog carnivals and #FoodFri twitter chats -- and both Rivera and Pino focused on extenuating circumstances related to obesity like the physical environment and poverty.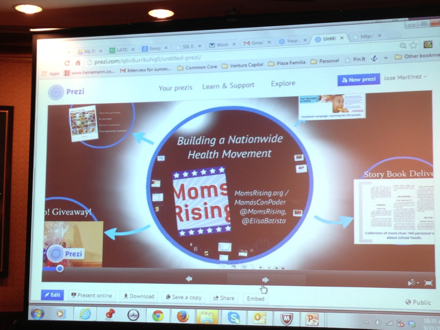 Here's a YouTube of my talk on blog carnivals, in particular one that was introduced by top chef Lorena Garcia:
Looking forward to LATISM '14!