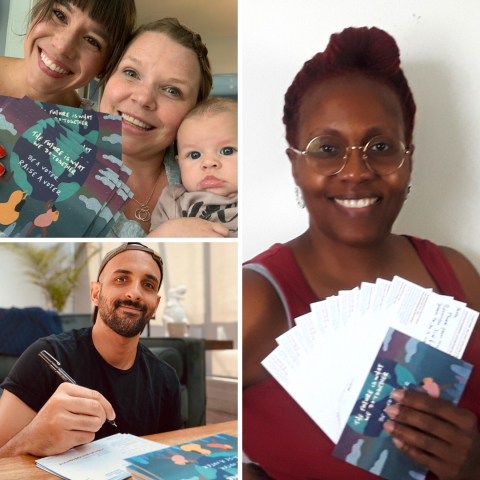 LAST CHANCE to DOUBLE Your Impact!
Pictures. Notes. Your messages… we love them all! And now, below, we're excited to share some of our favorite pictures and messages with you. That's right, as 2020 winds to a close, we're sharing just a few of the powerful, joyful, from-the-heart notes and photos that literally thousands of MomsRising supporters like you have shared with us in the past year. Thank you.
Why share these notes? Because even though we're experiencing a pandemic, economic uncertainty, and more twists, turns, and shenanigans than we can count, these notes and photos remind us that through everything, MomsRising supporters continue looking out for each other. And even though we've been physically separated this year, we've managed to organize as powerfully as ever, busting through one goal after another during election season and beyond.
Together, we're not only facing 2020's challenges, we're envisioning even bigger steps forward for progress in 2021. Together, we're amplifying our voices -- the voices of parents and caregivers, children and families, people at every stage of life. And make no mistake-- lawmakers, the media, and businesses are hearing us!
Together, I believe that we will win.
– Kristin, Anita, Nate, Ruby, Jordan, Sue Anne, Amber, Aryan, Beatriz, Beth, Casey, Christina, Claudia, Diarra, Diana, Donna, dream, Elyssa, Felicia, Gloria, Hanna, Jessica, Joy, Julia, Karen, Keisha, Kelle, Linda, Lisa, Lucrecer, Maggie, Marysol, Monifa, Nadia, Nancy, Nina, Rocío, Ruth, Sara, Shanette, Sheila, Sili, Tasmiha, Taylor, Tina, Tola, and Xochitl, and the entire MomsRising/MamásconPoder team
WE ARE MOMSRISING - SCROLL DOWN TO SEE A FEW OF OUR FAVORITE PICTURES AND MESSAGES FROM YOU (Thank you!):
***
Just a few of the thousands of MomsRising supporters who joined together to help register voters and get out the vote
***
"I am 68 years old, my husband just had surgery. We are quarantined like everyone else. Your [organization] offered something hands-on, something a person like me can do to help.
Thank you for your work and including me in this little piece of hope.
From the bottom of our hearts, thank you!
You are welcome, but I am the one blessed."
—Teresa
***
"I don't remember how I first learned about the postcard campaign (somewhere on FB) but signed up immediately. I received my cards yesterday and they are in the mail back to you today...
I don't know if I will always have the means to donate but decided to donate my stimulus check to charities and decide MomsRising was a worthy one.
Thank you for all you do."
—Kathie
***
"[I support MomsRising because] with everything going on right now, I wanted to be able to contribute in a way that keeps all of our babies and mamas alive, happy, and healthy."
—Fontine
***
Thousands upon thousands of MomsRising supporters continue to speak out for justice for Breonna Taylor and for Black lives.
***
"The values that are promoted by MomsRising are the basic, common sense solutions that serve our democratic society well. They support human dignity and justice. I admire the energy and tenacity of the young women who initiated the MomsRising movement. Their skillful use of electronic communication is impressive and effective. May Moms Rising bloom and grow forever."
— Leona
***
THANK YOU for being part of the MomsRising movement.