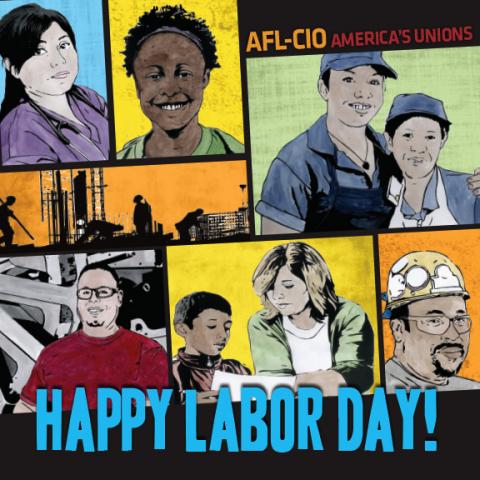 Labor Day: A Time to Recommit
This Labor Day, throughout the nation we will pause to recognize the incredible achievements of America's working women and men. We will gather in communities to march in parades, host barbecues and celebrate the people who really make this country run.
But we also should recognize that despite our sweat, our sacrifice and our innovation, too many families are struggling to get by.
This hasn't happened by chance. Increasing political and corporate attacks on working people have pushed wages down for decades. Good jobs have become harder to find. Unemployment remains too high. Large raises have gone almost exclusively to CEOs, corporate shareholders and the 1%. Working people are more productive than ever—but we're not seeing the rewards. And the burdens of today's economy fall particularly hard on women, people of color, children and young workers.
No one should work for a living yet struggle to support a family. But some of the fastest job growth is occurring in low-wage industries like fast food, retail and caregiving—work traditionally performed by women. That's why more families feel that they are struggling just to keep up with living costs. These same industries are least likely to pay a living wage or provide basic benefits like earned sick days and holidays—so many of us can't afford to take the day off if we are sick. And many certainly can't afford to take a day off to care for a family member in need.
In response, the labor movement has launched a Raising Wages campaign. Working people everywhere are frustrated by the indifference and hostility of political and corporate powers and are taking matters into our own hands. This year, we have witnessed some incredible achievements—and a growing workers' movement led by those who are saying, "Enough. It's time for fundamental, lasting change."
Across the country, working families have taken up the mantle for change. Workers, community organizers, faith leaders, civil rights activists and many others have come together to achieve impressive victories for the Raising Wages movement:
·          Raising the minimum wage: Thanks to public pressure, dozens of municipalities and 10 states have passed minimum wage increases since January. Four more states will vote this fall on whether to raise their minimum wages.
·          Telling the story: Take a look at some of the stories we've received about how raising the minimum wage would change lives—then share your story. Text LABOR to 235246 (message and data rates may apply).
·         Ensuring rights for domestic workers: Three states have passed Domestic Workers Bills of Rights in the past year and a half, expanding basic labor protections and important rights to an industry in which workers, primarily women, are vulnerable to wage theft, harassment and abuse.
·         Enacting paid sick days laws: Campaigns to give all workers access to paid sick leave are either in progress or have been successful recently in 22 states and four major cities.
·         Low-wage workers coming together: Throughout the past year, the frustrations of low-wage workers have received unprecedented attention. Whether it's fast food workers fighting for $15 an hour or Walmart workers demanding an end to illegal retaliation and minimum salaries of $25,000 a year, low-wage workers working together have achieved significant community support.
·         Building labor-management partnerships that train workers for good, middle-class jobs. On Labor Day I'm going to be in Wisconsin—home of a great example: The Wisconsin Regional Training Partnership, which prepares workers for skilled manufacturing and construction jobs.
·         Organizing into unions: Private- and public-sector workers are organizing to form unions at work, coming together to improve their jobs and their lives. More than 90,000 workers joined AFSCME, the state and county employees union, this year, for example. In Minnesota, 27,000 home care workers just became Service Employees members, and 2,600 JetBlue pilots recently voted to join the Air Line Pilots (ALPA). These are just a few of workers' successful efforts to win a voice on the job.
It took a lot of hard work by the wealthiest in America to drive down our wages. It will take even harder work by all of us to raise them once again.
Labor Day is the perfect time to recommit to this work.