Knowledge, encouragement, and support: Helping a new mom breastfeed
Knowledge, encouragement, and support. That's what I needed to make my first attempt at breastfeeding a success in the first bleary weeks with a newborn.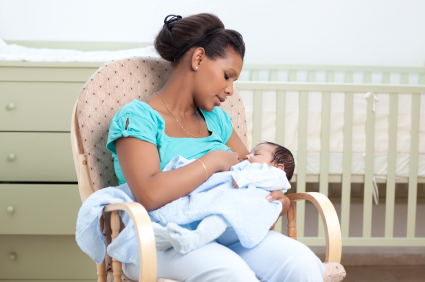 For several years, new mothers who receive support through the WIC (Women, Infants and Children) program have been getting exactly this type of breastfeeding support and information through peer counselors. For women who live in communities where breastfeeding rates are low, these peer counselors may be the only person they can turn to for breastfeeding advice and support. And once these new mothers become comfortable with breastfeeding, they may become trusted resources in their own communities to help their friends in the future.
Makes sense, right?
Unbelievably, this low-budget, common sense peer breastfeeding support program is under direct attack--and time is tight to save it.
Who's attacking?  The U.S. House Committee on Appropriations has passed a Agriculture, Rural Development, FDA and Related Agencies 2013 budget bill that no longer provides dedicated funding for WIC breastfeeding peer counselors. [1]  We still have time to turn this around!
*Take action now to urge Congress to continue to support the WIC peer counseling program! 
http://action.momsrising.org/letter/WICPeerBreastfeeding/
Time is tight – we need to act quickly!  The full House of Representatives will be reviewing the budget bill and making changes to it next week.  We'll deliver your signatures on our petition directly to the House of Representatives as they begin debate on this issue.  And we'll use your actions to bring this issue to the media to double our impact.
Here are three quick reasons why we need to stand up for the WIC peer counseling program:
* It works! WIC estimates that women who attend its breastfeeding support groups are twice as likely to plan to breastfeed as those who don't. [2] Twice as likely!
* WIC's annual spending on infant formula is over 14 times more ($850 million in 2009) than the modest request of just $60 million for breastfeeding peer counselors. [3] If more women get the support they need to breastfeed, WIC and taxpayers will save money in expensive formula costs in the long run.
* Every one of us has a stake in encouraging new moms to breastfeed because breastfeeding helps prevent many costly chronic diseases in mothers and children and acute illnesses in infants.  If 90% of U.S. mothers exclusively breastfed to six months according to medical recommendations, the nation could save $13 billion in health care costs and prevent the loss of 911 lives per year. [4]
*Take a moment to help preserve this critical program and stand up for new mothers:   http://action.momsrising.org/letter/WICPeerBreastfeeding/
After you take action, please take a minute to forward this email to friends, family and your parent listservs so many more can take action too!
Together we are a powerful voice for children and families.
[2]  Huffington Post
[3] Center on Budget & Policy Priorities
[4] Pediatrics