Take Action!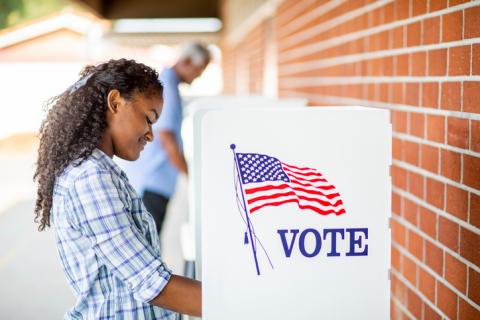 Right now there are 53,000 people in Georgia who think they are registered to vote, but in actuality, their voter registrations are "pending" because of an unfair and discriminatory policy. As a result, tens of thousands of Georgians may be prevented from voting on Voting Day. There also have been voter registration issues reported in Texas and North Dakota.
This is voter suppression and we won't stand for it! It is important now more than ever that you know your rights when heading to the polls.
With all that is happening in the weeks before Voting Day, it's important that you know your rights. Here are a few short tips to follow before and when you are going to vote:
Check to make sure you are registered to vote! Considering what is happenings, it's super important that you check to make sure you are registered to vote. We've heard from MomsRising members all over the country, not just Georgia, who thought they were registered to vote, and it ended up they no longer were. Check your registration here.
If you suspect you are one of the 53,000 in Georgia, here are the steps you should take: Check to see if your registration form is on hold here. If it's on hold or there is a problem a red bar will appear at the top directing you to your county registrar for next steps. Per Georgia law, those with pending applications have 26 months to fix the verification issue. Even if a registration application is pending on Voting Day, if the voter provides proper identification, the Secretary of State's office said they can cast a regular ballot and not a provisional ballot. You can find more information here.
Put together a voting plan and be prepared when you go to vote! Every state has different requirements on what you need to bring when you go to vote, including what forms of id are acceptable.The best thing to do is have a plan! Educate yourself on what to do beforehand, so there are little to no surprises when you show up to vote. Learn the rules for voting in your state by going here.
Know what to do if you encounter voter intimidation! Voter intimidation is rare and unlikely but also illegal if you encounter it. Voter intimidation could be aggressive questioning about voting qualifications or false information about voter requirements (like saying you need to be an English speaker or that you have to take a reading test to vote). It's good to know what voter intimidation looks like and know your rights. Check out this FAQ from the ACLU.
If you encounter any problems at the polls when you go to vote, do not leave! If anything weird or confusing is happening, if they are telling you you're not registered to vote, or if you are unable to vote in any way it's very important to stay calm, do not leave (stay in line if you can) and call the voter protection hotline to figure out next steps and for FREE legal advice! 866-OUR-VOTE. Program this number into your phone in case anything comes up and you need advice or help!
If you are facing a conviction you might also want to check out this blog, which talks about your voting rights.
Chances are you will have an easy time voting. But in case not, it's always good to know your rights, be educated and informed, and prepared to take action if anything concerning comes up.
We want to get this info out there so make sure to share this blog with your friends and family! Send them the link and post to Facebook and Twitter so everyone knows their rights!
*Want to know more about what's going on in Georgia? Here's the lowdown:
Even though the voter registration deadline in Georgia has already passed, it has been discovered that 53,000 voters might be unable to vote on regular ballots come Voting Day due to an unfair and discriminatory policy called "exact match." 
"Exact match" states that your voter registration could be rejected, or placed in a "pending" status if your name and information doesn't exactly match the information on your driver's license or Social Security card. 
And we mean an exact match—a missing hyphen, changed last name, or the addition of a middle initial is enough to make the Georgia Secretary of State Brian Kemp's office put on hold the voter registration forms of tens of thousands of voters. Know who is most likely to add a hyphen or name change? 80% of married women, including moms. And 70% of those 53,000 voters who are being suppressed because of this policy are Black. 
This is outrageous! It's discriminatory. It's voter suppression less than a month before the midterms. And it must stop now.
Thankfully, a number of civil rights groups are suing the Georgia Secretary of State, calling on Brian Kemp to process the 53,000 voter registration forms. 
→ We want to add the voices of moms, dads, and concerned people to this chorus and call on Georgia Secretary of State Brian Kemp to process those voter registration forms that are on hold because of the "exact match" policy and do away with this discriminatory and oppressive policy.