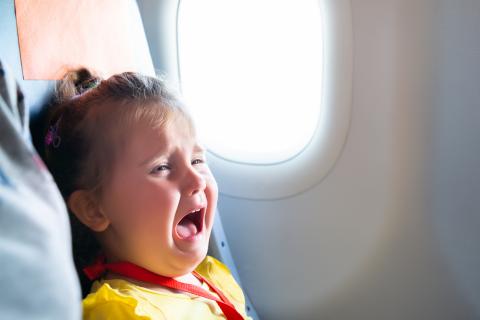 Kids Seated Away From Family During Flights?! Speak Out
Picture a 3-year-old sitting in a middle seat on an airplane, rows away from her parents as turbulence shakes the plane. Now imagine her parents trapped in their own seats rows away unable to help her, not knowing if she is safe sitting between strangers. Not to mention what it's like to be one of those flyers next to the toddler, having to soothe a child they've never met.  
And what if the worst should happen, and passengers must evacuate? Will the parents calmly leave the plane? Or will they slow everyone down by running in the direction of their child? Can the solo traveler be counted on to care for the child?
As a parent, I find the idea of sitting away from my own small children unthinkable. But it is happening. Families buy tickets and choose seats together, but the airline reassigns those seats before the flight, forcing parents to pay for an upgrade, or to beg gate agents, flight attendants, and other passengers to switch seats with them. Or families buy low-cost Basic Economy tickets only to find that this fare doesn't just deny them the opportunity to pick their own seats, it actually puts the parents in seats that are nowhere near their children.  Often families are told that gate agents can fix the problem and enable parents and children to sit together, if only the family is willing to pay an extra fee.
Absurd, right? That's why more than 45,000 people have joined with Consumer Reports in demanding the airlines enable children to be seated with their families on planes at no additional cost. You can help increase the pressure on the airlines by signing Consumer Reports' petition.
This problem should have been fixed years ago. In 2016, Congress required the Department of Transportation to "review and, if appropriate, establish a policy" to ensure that children 13 and younger can sit next to family members "to the maximum extent practicable and at no additional cost."  But the Department of Transportation, citing a lack of complaints from travelers, declined to act.
Of course, there weren't many complaints because most frustrated parents had no idea they could complain to the DOT. Consumer Reports recently set up a portal to the Department's complaint system. In just two weeks, we generated three times as many complaints as the Department had received in the previous two years.  
But the airlines can fix this without government intervention. They know the age of every traveler and could prioritize sitting children with their families, rather than squeezing desperate parents  for more money in fees and fare class upgrades.  As one traveler wrote in her complaint:  "We didn't care WHERE we sat. We just needed to be with our kids." 
Add your name to the petition calling on the airlines to do the right thing, and seat children with their families -- for every flyers' sake!