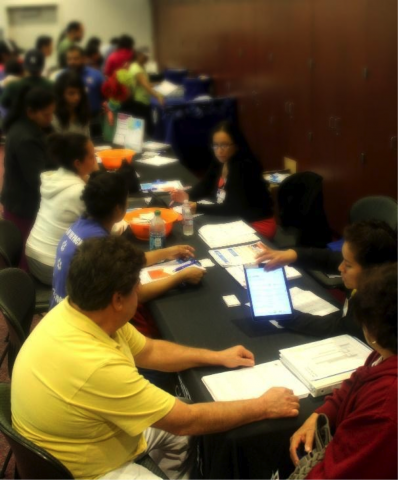 Kids in California Are Eligible for No-Cost Medi-Cal All Year Round – Let's Get Them Covered Today
Haga clic aquí para leer el artículo en español
Summer is almost here and California Coverage & Health Initiatives (CCHI) and all our statewide members want California's children to be healthy wherever they live and play. Studies show children with health coverage are more likely to thrive and grow up better prepared for life as well as ready to learn in school. This is why we want to remind everyone that enrollment in free health care coverage through California's Medicaid program, Medi-Cal, is available all year long for children.
There is no deadline for applying, so check out if you and your family are eligible NOW by contacting your local enrollment counselor.  You can search for the nearest one by your zip code HERE or you can call Covered California at 1 (800) 300-1506 and they will assist you.  If you do not live in California, visit your state's Medicaid agency or HealthCare.gov. Or call 1-877-KIDS-NOW (1-877-543-7669).
A great example of how eligible children and families are enrolling in coverage with local, in-language assistance year round is by the Community Health Initiative (CHI) of Kern County. They have established partnerships with faith-based organizations and are making personal connections with faith leaders and congregations across Kern County. And these relationships are not "one touch and done," they are meaningful interactions with families in a trusted setting.  The CHI of Kern County staff host multiple sessions at each church to provide information about the benefits and affordability of health coverage, answer questions, and provide enrollment opportunities.
In Riverside and San Bernardino counties the Inland Empire Children's Health Initiative (IE-CHI) has a huge swath of land where many Medi-Cal eligible uninsured children live, both in urban and rural settings.  IE-CHI staff have been combing through the high and low desert regions to make sure residents there are informed about the eligibility requirements and health care benefits of enrolling in the Medi-Cal program. Again, we see that the personal touch goes such a long way in successful enrollment and builds the long-term relationships that establish a culture of coverage year round.
If you know someone, a friend, a neighbor, or a colleague who does not have health care coverage please connect them with their local enrollment counselor who can help them get covered today. And with two-thirds of uninsured children in California eligible for Medi-Cal, now is the time to take the next step for the well-being and future of our younger generations.
CCHI is made up of remarkable grass-roots organizations that remain steadfast in their efforts to enroll all kids in coverage – and they stand by our mission that covering every child is possible and necessary.  In fact, they have been doing this work for over a decade and are now capitalizing on the momentum of the Affordable Care Act to reach tens of thousands more children located in California's areas of greatest need.  We can say that collectively, we make each day count for kids.
To learn more about Medicaid and CHIP and how to enroll, visit your state's Medicaid agency or HealthCare.gov. Or call 1-877-KIDS-NOW (1-877-543-7669)