Join In!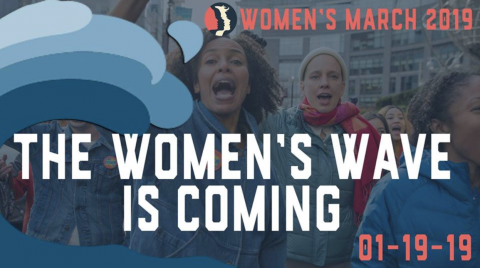 #KeepMarching! Info on Women's March 2019
The historic 2017 Women's March inspired hundreds of women to run for office and millions of women to support them in winning. In November 2018, the #WomensWave swept into office record numbers of women and people of color!
We are not done exerting our power. Now in 2019, it's time to march again and send a loud and clear message to President Trump that women are raising our voices for the real changes we need in our communities — and also to show our newly elected representatives that we have their backs as they prepare to fight on behalf of women and families. Are you in?
*RSVP now — say you'll be joining the 3rd Women's March on Saturday, January 19, 2019, in Washington, D.C. and in cities across the nation!
The stakes for our nation are too high to be silent right now. One thing we know through our agreements, and even through our disagreements, is that our voices are urgently needed to stand up for the rights of every woman — and against sexism, racism, xenophobia, anti-semitism, ableism, homophobia, transphobia, Islamophobia, and all forms of discrimination that are negatively impacting our communities. Together, our #WomensWave will keep growing and letting the Trump administration know that diverse women will continue to be a wall of power against his destructive agenda!
The Women's March in January 2019 is an important opportunity to demonstrate our power and unity, and, critically, to continue to build momentum to 2020 and beyond. When we return to the streets of Washington, D.C. and cities around the world, we arrive with an agenda on behalf of all women, families, and communities.
*Are you with us? Let us know by RSVPing here.
When you click the link, you'll be letting us know that "You're all in!" as part of the #WomensWave. By RSVPing now, you will help us share with the media and leaders that women are still rising, persisting, and insisting on justice, so please fill out the form. The more of us who are "all in," the bigger the impact we'll have together. 
*Here's the RSVP link again (Feel free to share it with others too!): https://action.momsrising.org/survey/WomensMarch_RSVP2019/
Here's more information about transportation, sister marches, buttons, and more:
Need help arranging transportation or want to register your bus so others in your area can join you? https://www.womensmarch.com/2019-buses
Can't make it to Washington, D.C., but are interested in participating in a march event near you? You can find a full list of the local events happening (organized by state and city) at the main Women's March website: https://actionnetwork.org/event_campaigns/third-annual-womens-march-womenswave?source=direct_link
Want to show some MomsRising/MamásConPoder pride around the marches no matter where you are and whatever you're doing? We have printable "Super M" buttons for you to wear while marching! #MomsMarching "Super M" Button INSTRUCTIONS: Just print the PDF downloaded from the following link, color the buttons, cut them out, and use a safety pin to put the buttons on for the #WomensMarch! --> Here's the link to get your FREE buttons for the #WomensMarch: https://s3.amazonaws.com/s3.momsrising.org/images/WomensMarch_Buttons.pdf
Want to get involved virtually? Connect with MomsRising on Facebook and via @MomRising and @WomensMarch on Twitter on January 19th to raise your voice and help amplify the mission of the Women's March!
Keep Informed! We will continue to keep you posted as information comes our way! You can also find the latest information at the main Women's March website, including transportation recommendations, suggested reading, and the mission of the march.
*Don't forget to RSVP that you'll be there (in Washington, D.C., or any of the sister cities) — and to share the RSVP link on Facebook, Twitter, and with friends and family too, so we can keep building a strong movement. Here's that RSVP link again: https://action.momsrising.org/survey/WomensMarch_RSVP2019/
Together, we'll #KeepMarching. Together, we are the #WomensWave!
See you there!