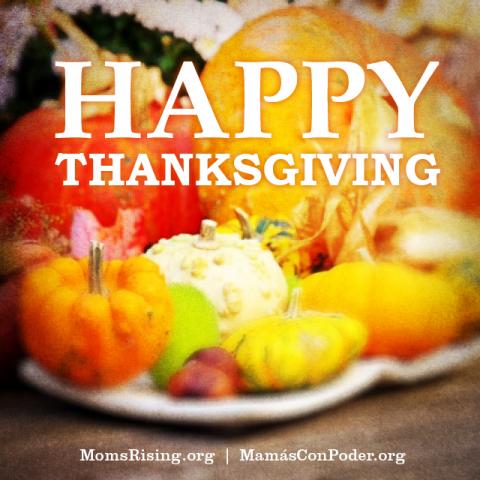 Keep Rising This Thanksgiving!
The smell of sweet potatoes in the oven is making me smile as I write to you right now to share my enormous gratitude for all you do with MomsRising. But that's not the only reason I'm smiling. You see, reflecting on how much of a positive force for justice we've been together so far in 2019 — and anticipating what we can accomplish together in 2020 — is making me smile so much broader than even my favorite sweet potato dish could inspire!
THANK YOU.
I want to take a moment to celebrate you. You are making a difference when you sign that petition, make that call, go to that meeting, share that video or action on social media, help get out that vote, or otherwise make your voice heard. And I can't tell you how much the fact that you #KeepRising means to me, to this movement, and to the families who are lifted by your (and our) actions together.
Thank you again.
My hair sometimes feels like it's going to light on fire when I watch the news these days. But then I take a deep breath. I remember YOU are out there. You #KeepRising, and inspire me to do the same. What I love about you — and about us together — is that we are turning our anger at the news headlines, and at the injustices we see, into action that helps bring forward solutions.
The nearly-too-good-to-be true fact is that together this year we've helped advance fair pay policy, helped protect healthcare and food stamps, helped advance paid family/medical leave, stood strong against the cradle to prison pipeline, and we've banded together against the separation of children and families through Donald Trump's incredibly harmful immigration policies. We've been making a difference at both the state and national levels. That's power. That's change. That's hope sweeter than any sweet potato casserole.
Together, you are part of a group of people who are the leaders we've been waiting for in our communities and our nation. (Are you smiling now too? :))
Of course, our work is far from finished. We have a tremendous amount of work to do in the coming year, including making sure that everyone who wants to vote, can vote in 2020 — and showing again & again that we're a Mom Force to be reckoned with as we help advance the policies that lift us all, hold corporations accountable, and change the national dialogue so it better reflects the contributions and needs of women, moms, and families. There is so much to do, yes — but we're moms and we get it done. So on this Thanksgiving Eve let's take a moment to celebrate that we ARE a force together.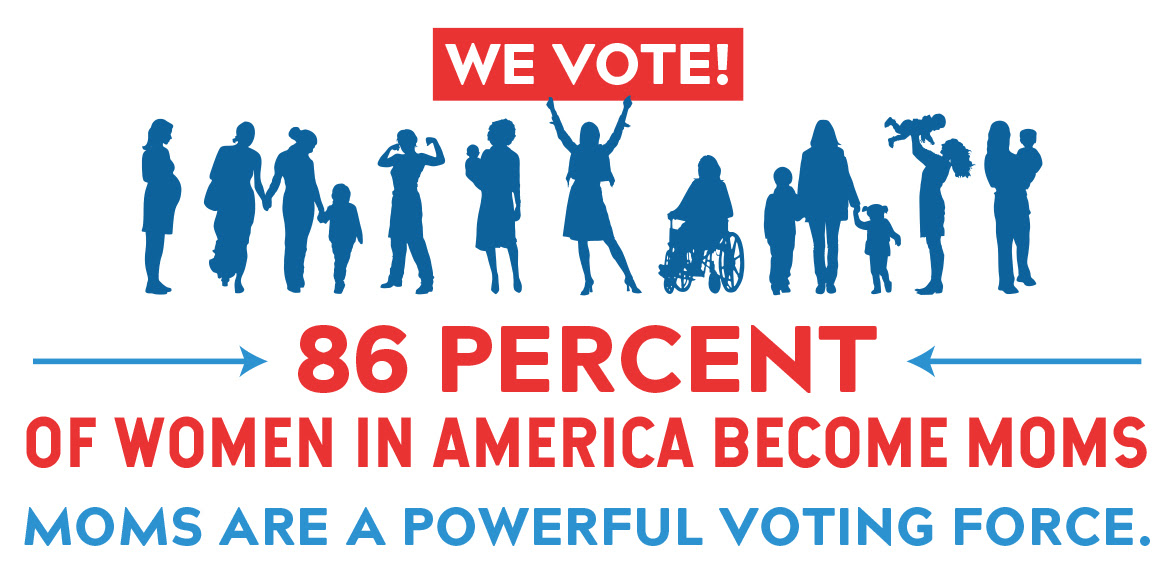 Need the numbers to prove we're a force? I have them for you right here: there are 74,975,542 mom voters in our nation. You are not alone. That's me, that's us, that's you. And, that's power. But not everyone who is a registered voter takes the time to vote; so if we each commit to remind our friends, family, and neighbors to vote in 2020, then that's even more power for each of us to be thankful for this holiday season!
So as we give thanks for the wins of 2019, make plans to build our power in 2020, and dive into sweet potato casseroles, please know that you are seen, appreciated, and we are so grateful for you as you #KeepRising!
Thank you.
P.S. Today is a great day to contribute to our movement. Your gift has double the power today thanks to an anonymous donor who is offering a one-to-one match through Giving Tuesday! Show your thanks for the power of moms and help us grow stronger by donating today. Thank you.