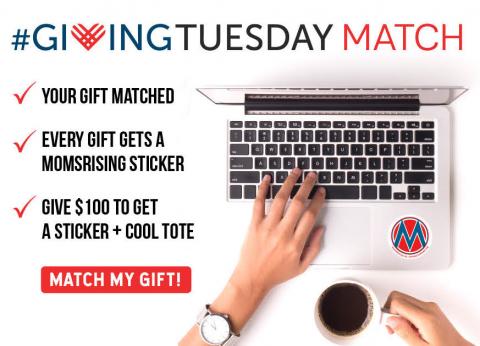 Keep Rising on Giving Tuesday!
We're ready for a day of unity and kindness for women and families — it's finally Giving Tuesday!
We've been waiting for this day.
And we're celebrating this beautiful day of generosity the MomsRising way, with ACTION.
To create the brighter future for women, moms and families that we know is possible, we need to invest now. It's less than one year before the 2020 elections, and we have set an urgent, ambitious goal of mobilizing 1 million moms before November 2020 to engage in our democracy and vote.
We need every MomsRising member to rise now, and contribute what they can, to make it happen.
In honor of Giving Tuesday, will you #KeepRising and become our next MomsRising Champion monthly donor, and ignite democracy all year long?
Your monthly contributions matched for an entire year
Every gift gets a MomsRising sticker
Pledge $10/month to get a sticker + cool tote 
Can't chip in monthly? Make a one-time contribution instead — still matched $1-for-$1!
There is no doubt that, with your support, we've pushed MOMentum further than we ever thought possible.
Dozens of municipalities have enacted paid leave and states are passing fair pay and child care expansion laws. Big banks are fleeing the abusive private prison industry that's responsible for horrendous human rights violations against migrant families. More moms and women are in Congress than any time in history, fighting for policies that make America a more family friendly nation. We are changing our democracy for the better -- TOGETHER.
YOU made these wins possible. But we still have work to do. I'm asking you today to:
Keep Rising, until all families have affordable healthcare.
Keep Rising, until all children are protected by gun safety laws.
Keep Rising, until all women have full reproductive rights.
Keep Rising, until all women enjoy equal pay for equal work.
Are you in? Say you're with us! Because when you rise, with us, all families win.
– Yes, I want to become a MomsRising Champion monthly donor.
– I can't give monthly now.
Remember, when you contribute, a sister MomsRising donor will DOUBLE your donations for an entire year, giving you 2X the power to help women, moms and families rise.
Thank you for your continued compassion and generosity.
P.S. Monthly giving is affordable, easy, and twice as powerful in 2020, thanks to the match. Can't give monthly? One-time contributions are deeply appreciated, and also doubly powerful! Thank you!