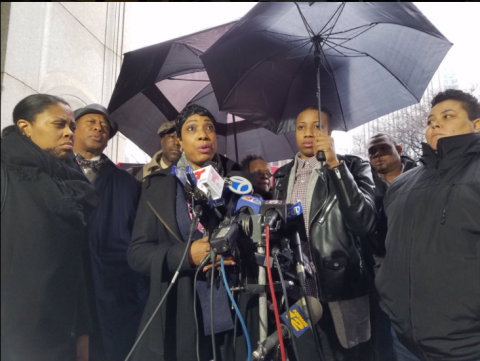 Justice for Ramarley Graham
"True peace is not merely the absence of tension: it is the presence of justice."
-Dr. Martin Luther King Junior
On Martin Luther King Day this past Monday, people around the country paid tribute to the legacy of a now celebrated leader who fought vehemently for equality, accountability and the dignity of black people. This day also highlighted the work still needed to be done as black men, women and children continue to lose their lives at the hands of the those who should be protecting them. Monday was Martin Luther King day, Tuesday was the start of an administrative trial for NYPD Officer Richard Haste, who shot and killed an innocent black young man 5 years ago, a shooting that to this day has not been brought to justice. 
In addition to this, there have been been troubling inconsistencies in NYPD police reports, such as police reporting that Ramarley ran away from the police while a video recording clearly showed that he walked into his home, unaware that he was being followed. NYPD spokesman Paul Brown initially stated that there was a struggle between Ramarley and police officers but the next day NYPD Commissioner Ray Kelly said that there was no struggle.
Despite the mounting evidence of police brutality and excessive use of force leading to death, justice has not been served. Officer Haste was charged with manslaughter a few months after Ramarley's death, but his indictment was later vacated by a judge. Ramarley's family eventually won a lawsuit against the city, yet there has still been no indictment or charge for Officer Haste, nor any of the other police involved in the shooting.
Every day this week at 10am, supporters of Ramarley and his family packed the courthouse at NYPD headquarters demanding justice and accountability. MomRising's VP and Chief Partnership & Diversity Officer, Monifa Bandele, attended in solidarity on Monday and today. Tomorrow, Friday Jan 20th, will be the last day of the hearing.
No mother should lose their child to police violence. They shouldn't fear that their sons and daughters will be shot by those sworn to protect them. Let us stand so that the presence of justice can make itself known, for Ramarley Graham and for the black men and women who have lost and continue to lose  their lives to police violence and systemic oppression.