Take Action!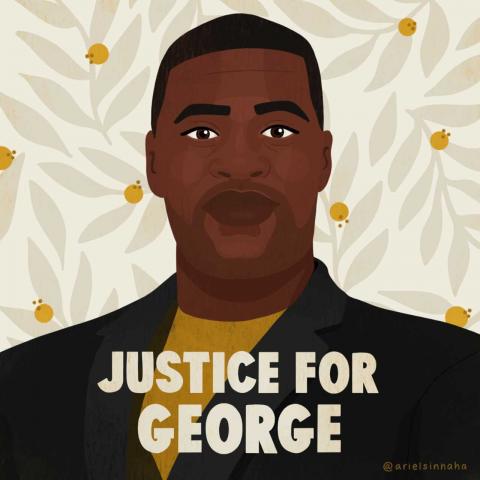 We are grieving that George Floyd was killed by four police officers earlier this week. A father and a son, George worked security at a restaurant, where fellow employees say he was loved by all. "Knowing my brother is to love my brother," George's brother Philonise told CNN earlier this week.
George was murdered by Minneapolis police officer Derek Chauvin who knelt on George's neck for seven minutes until he died as he gasped the words we've tragically heard before, "I can't breath" and called for his mother. Three of Chauvin's colleagues stood by and watched Chauvin end George's life. 
We know this is incredibly hard to read, and to witness. In fact, we know many decided they wouldn't watch this video, that it was one more police killing of a Black person too many. We also know it's magnitudes of times harder to have to live with structural racism than to read about it. And, we know we absolutely must demand change. 
No mother should have to worry about the loss of a loved one at the hands of those charged with protection. No one should lose their lives.
*Join us to demand that all four police officers who killed George Floyd are charged with murder and for the vicious and inflammatory attacks on protesters, including the inflammatory attacks by President Trump, to stop immediately.
We grieve, we're angry, and we cannot stop holding leaders accountable. This includes prosecutors, who hold more power in the criminal justice system than almost anyone else. It includes everyone from mayors and governors to the President of the United States. It includes the media and our own friends and family.
Sadly, it's not just George Floyd. It's Breonna Taylor. It's Ahmaud Arbery and Atatiana Jefferson. It's a list of names too long to fit on this page. Each of whom was a person, with loved ones, dreams, and lives to be lived.
It's a system that directly targets Black people and people of color through sanctioned acts of violence; and structurally targets people of color by intentionally cutting programs, diverting resources, and so much more.
It's a president who has encouraged police violence and is consistently and openly fueling white supremacy in our nation. A president who just last night tweeted an implication that protesters could be shot, implying that he'd order the military to act as judge, jury, and executioner; using wording that has historically stoked anti-Black racism. A tweet so racist and incendiary that Twitter took the rare step of putting a warning label on it for "glorifying violence" and limited the public's interaction with it. It's this same president who has also dog-whistled white supremacists, militias, and vigilantes time and time again.
It's police brutality, it's an unjust criminial justice system, it's the wage gap that disproportionately harms moms of color the most, it's discrimination in the heatlhcare system that's leading to more people of color losing their lives to COVID-19 and to Black women dying three to four times as often as white women while giving birth.
It's white supremacist groups with guns marching on state capitols protesting public health measures that scientists have prescribed to stop the pandemic -- and remaining unharmed and untouched by law enforcement; while protestors of color demanding an end to police brutality were met by tear gas and rubber bullets. 
It's Amy Cooper, a white woman who called the police saying, "I'm going to tell them there's an African American man threatening my life," simply because a local bird watcher, Christian Cooper, asked her to put her dog back on a leash in a protected wildlife area where leashed dogs was the rule. We all know that calling the police on a person of color can be a weaponized response. Amy knew.
All of this is why we demand full accountability for what happened to George Floyd. And why we will never give up demanding a system and a country in which everyone can live and thrive.
*Please add your name now, and share the link with everyone you know.
Read these facts and hold them close.
Young Black men are, according to a ProPublica analysis, 21 times as likely to be shot and killed by police as young white men-- and this structural racism covers people of all genders. 
There is rampant discrimination in our criminal justice system. 
Black women are eight times more likely than white women to be incarcerated, and Latina women are four times more likely to be incarcerated, according to Amnesty International.
Evidence of this structural racism spans across the criminal justice system. An analysis from the St. Louis Post-Dispatch editorial board that found Black Missourians were 66% more likely in 2013 to be stopped by police "even though the likelihood of finding contraband was higher among whites." 
Let's be clear. George's death was not a mistake. And the structural racism and police brutality it represents MUST STOP. 
We, on the other hand, will never stop. The path towards justice is long, it's very hard, and at times it feels very bleak. But we continue to fight for our children and our future. We won't give up because we know we can and must win.
Thank you.