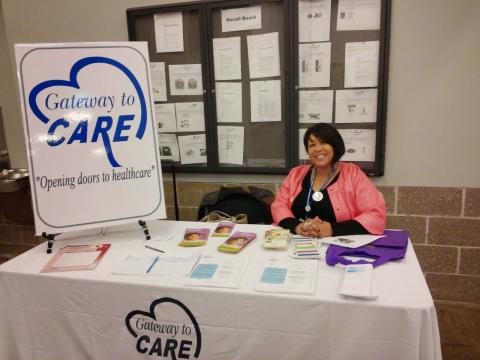 Just The Facts: Gateway to Care & the Culture of Health
We speak to many people everyday who call Gateway to Care because they are looking for healthcare. The phone call may start with the parent calling for assistance in locating healthcare options, but it will end with the whole family having the steps and tools they need for health coverage. Being that we are located in the state of Texas, 1 out of every 4 people are uninsured, the highest rate of uninsured people in the country 
http://www.window.state.tx.us/specialrpt/tif/healthcare.html
). Gateway to Care's Connecting Kids and Families to Coverage team strives to make an impact on these numbers.
Our way of making sure that as many children are enrolled in CHIP/Medicaid as possible is by providing ongoing training to community leaders and stopping the spread of misinformation. We also participate in as many outreach events as possible and share the information with as many people as possible.
How can WE make a Difference?
Enroll your kid NOW. There is no telling what can happen in the future and health insurance is important.
We can join together and make a difference. WE can help Texas become the state with the MOST insured residents. At Gateway to Care the Connecting Kids and Families team is leading an effort to train community leaders about topics such as: The Affordable Care Act, CHIP, Medicaid, Continuity of Enrollment, Basic Health Insurance Literacy Terms, and How to Effectively Use Your Health Insurance. This way, the leaders of the community can share their knowledge with others and help spread the effort to enroll members of the community in health coverage.
(photo credit: Rosalinda Mosqueda)
Children are constantly on the go, they are jumping around one minute and then playing tag the next, they need HEALTH INSURANCE. Going to birthday parties, swimming at the beach and swinging at the park are all activities our children partake in and it is important that they are covered in the event of an accident. Chances are that YOU or someone you know qualifies for CHIP/Medicaid. Even if you have been denied in the past, the eligibility criteria are different and you may qualify now! Spread the word that A. Child Support is no longer calculated as an income B. Asset tests have been removed (no longer counting vehicles or homes) and C. A 5% Income Disregard has been added. You can apply ALL YEAR LONG but please do not wait. We want preventative care, not sick care. Most importantly, let's make sure these children STAY enrolled in health coverage. 
Be a part of the movement to making Texas the MOST insured state in the nation. And to EVERYONE (including YOU parents) in America, let us be a nation of wellness. 
Let's protect our children.
If you or someone you know is interested in spreading the word to their community and receiving valuable information on updates and changes in the CHIP/Medicaid program please have them contact Gateway to Care 832-360-1234/ 713-783-4616. We are ready and excited about educating our community.
Those located outside of Texas can learn more about Medicaid and CHIP and how to enroll by visiting their state's Medicaid agency or HealthCare.gov. Or by calling 1-877-KIDS-NOW (1-877-543-7669).