Just Label It: We Have the Right to Know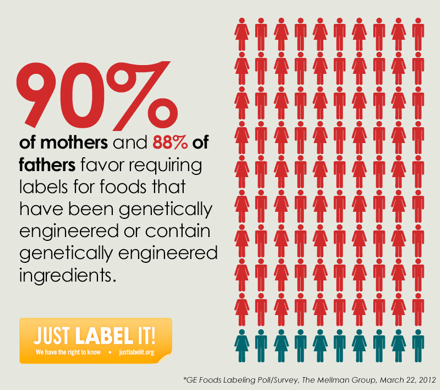 With my family getting back into the rhythm of another school year, I'm reminded of the constant challenge that parents face this time of year of providing our children with healthy meals throughout the day. From preparing breakfast and lunches each morning to after school snacks and dinner around the kitchen table, it takes a lot of work and energy to provide kids with the nutrition they need to sustain themselves throughout the day.
So many of us now have to juggle managing our children's food allergies, diabetes, and other dietary needs. Now imagine parents meeting this challenge without any way of knowing exactly about the food we serve our children.
A growing number of the foods we eat and serve our families contain ingredients that have been genetically engineered (GE) to withstand increasing doses of toxic weed killers and chemicals. GE foods are relatively new, and no long-term studies have been conducted to determine the health effects of these foods or what they might do to our kids or to a pregnant mother and her developing child.
What's even more surprising is that these foods were introduced into our food supply without labels.
With the increase of these ingredients in our food supply, it has become more and more difficult to make informed decisions about the food that we feed our families. While 50 other developed nations – including European Union members, Australia, New Zealand, Japan, Korea, Brazil, and China – require mandatory labeling of GE foods, as Americans, we are left in the dark about what's in our food.
Why? The policy was set back in the 1990s when only one in five Americans was expected to get cancer, and food allergies weren't part of the everyday lexicon. When these foods were being introduced, the claim was that so long as the foods looked, tasted, and smelled the same, they were determined to be more or less equivalent.
And while correlation is not causation and in light of the escalating rates of cancer since their introduction – not to mention food allergies and the fact that the Food and Drug Administration (FDA) has not done any independent safety testing – I can't imagine anyone disagreeing with the premise that we, as Americans, have a right to know about our food. It is that right which led me to work closely with the Just Label It (JLI) campaign, which was created to advocate for the labeling of GE foods and keep Americans informed about the food they eat.
JLI is a national coalition of nearly 600 organizations, and the coalition is making a special appeal to parents to ask the FDA for federally mandated labeling for GE foods. Diseases like food allergies and cancer do not know party lines. More than 1.2 million Americans have already signed the JLI petition, asking the FDA to require labeling of GE Foods. The organization is also asking Congress to support labeling.
I am enthusiastic about the progress that the campaign has made so far – freedom of information is all-American – and expect we will see a growing outpour of support as more Americans, especially parents, demand to know more about the ways our food is produced.
According to a survey conducted by the Mellman Group, 90 percent of mothers and 88 percent of fathers are in favor of labeling GE foods once they know about it. The problem is that without labels, too many of us, myself included, were in the dark that these ingredients had even been introduced into our foods in the first place. Additionally, knowing whether the food they purchase and serve their families contains GE ingredients is important to 85 percent of mothers and 80 percent of fathers.
It is rare to find nearly unanimous support for an issue, but food labeling has become deeply personal for millions of mothers and fathers as concerns about our children's food have intensified following controversies involving pink slime, the escalating rates of childhood diseases that have earned our children the title of "Generation Rx", and salmon genetically engineered to double its weight faster.
What will the long-term impact of these changes be? Without labels, there would be no way of knowing.
As mothers we want what is best for our children and we hope the decisions we make for them will serve them well as they grow and mature. But in order to make the best decisions for our children, we need accurate and readily available information.
There are few issues that are as personal and as important as what we choose to feed our children. By labeling GE foods, families throughout America can make informed choices.
Join the campaign and tell Congress it's time to Just Label It!