Take Action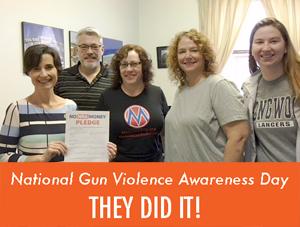 June is Gun Violence Awareness Month - Take Action!
June is National Gun Violence Awareness Month, and here at MomsRising, we are looking for AWARENESS + ACTION!
Every mom, dad, grandparent and family member can make a solid, verifiable difference in the fight for gun safety in their own community. How? By doing what Janine, Scott, and Dian did.
CLICK HERE to see a video of how Janine, Scott and Dian made a difference for gun safety -- and sign up to do it, too!
What did these MomsRising members do? They brought gun violence awareness to an elected official in their community in the form of a blank #NoNRAMoney pledge form, and then they got her to sign it! This is a personal WIN for them because every signed pledge is a real and solid step in the right direction.
Elected leaders, from school boards up to Congress, need to take the #NoNRAMoney pledge to show they prioritize the interests of children and families over the special interest gun lobby. Once they take the pledge, their names are added to the public list at NoNRAMoney.org, which constituents can check and know exactly where their representatives stand when it comes gun safety.
YOU can get personal wins, too, and help break the NRA's power
Sign up here to download blank #NoNRAMoney pledges to take to your elected representatives at the city, state, or federal level -- and also to see the video showing you exactly how to do it. It's easy!
The NRA's toxic influence is driving our government's massive failure to even attempt to reduce gun violence. Politicians who continue to accept campaign contributions from the NRA implicitly support an all-types-of-guns-everywhere-for-everyone agenda, which points in only one direction: More gun violence.
With close to 100,000 people injured or killed by guns in the United States annually, every day is gun violence awareness day. That's why we need action. It's long past time to draw a bright line in the sand to know with certainty which elected leaders stand with us and which stand against us.
Help draw that line in the sand! This June, for National Gun Violence Awareness Month, take responsibility for holding the elected leaders in your community accountable for gun safety by asking them to take the pledge. You can ask elected leaders on your school board, your local city council, your state representatives, or your members of Congress (or all of the above!) to sign the pledge by visiting with them in your local community. It takes less time than you think -- and has a big impact!
Sign up to deliver the #NoNRAMoney pledge directly to the elected leaders in your community. Watch the video to see exactly how to do it -- it's really easy! 
https://action.momsrising.org/signup/NoNRAMoneyPledge_GVPAwarenessAction/
Please forward this blog post to your friends, family, and to every other member of your community so they too can get their elected leaders to sign the #NoNRAMoney pledge.
We know you are extremely aware of gun violence already. Let's make sure all our elected officials at every level are aware too. Spread that awareness AND take action! Together, we can break the power of the NRA!
Sources:
"Do 100,000 people get shot every year in U.S.? Facebook post says yes," Politifact, July 23, 2012.