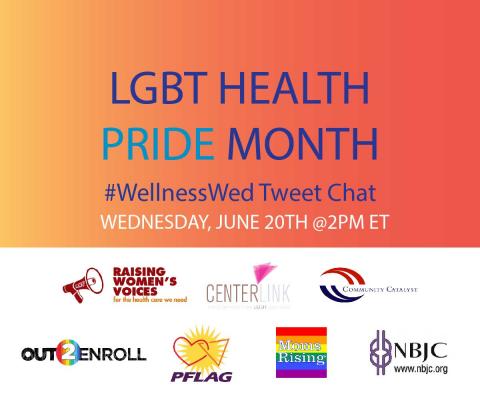 Join us Wednesday for a chat about Pride Month and LGBTQ Health!
Please join us on 6/20/18 at 2pm ET for a bilingual #WellnessWed Tweetchat about Pride Month and LGBTQ+ Health!
Details
Topic: Pride Month and LGBTQ Health; Mes del Orgullo LGBTQ Y Salud de la Comunidad LGBTQ
Date: Wednesday, 6/20/18; Miércoles, 20 de junio de 2018
Time: 2:00-3:00 PM ET
Hashtags: #WellnessWed, #Pride2018
Hosts: MomsRising, MamasConPoder
Guests: Out2Enroll, Community Catalyst, PFLAG National, CenterLink Action Network, National Black Justice Coalition, Raising Women's Voices
Important Reminders
All tweets must include the #WellnessWed hashtag to be part of the Twitter chat stream.
Retweet questions that you are responding to, so your followers can follow the conversation even if they're not following the chat.
Responses should include the question number you are referencing [i.e. answers to questions 1 & 2 (Q1 & Q2) should begin with A1, A2, etc.]
Handles
MomsRising: @MomsRising
Guests: @Out2Enroll, @HealthPolicyHub, @PFLAG, @LGBTActionLink, @NBJContheMove, @RWV4HealthCare
Spanish: @MamasConPoder
We look forward to Tweeting you there!