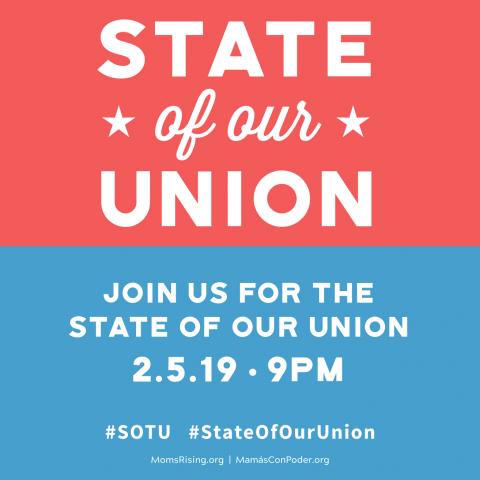 Join Us For: The State Of OUR Union
We're coming together to protect all families during the #SOTU on Tuesday & we need your voice! Join us (@MomsRising) for the #StateofOURUnion and pledge to UNITE against hate, misogyny, sexual violence, racism, and all forms of discrimination.
We're not going to let Trump be the only voice heard on the state of the union!
When women organize, we are capable of changing even the most entrenched systems of inequality. When women unite, we are unstoppable.
Copy and paste the facts below to share the tweets and we'll see you on TTuesday at 9pm EST!
It's 2019 and we *still* don't have #EqualPay. #StateofOURUnion
Disabled women face severe challenges in our economy & society — locked out of many jobs, and faced with high rates of sexual assault — 38 to 68 percent of disabled women in developed nations like the U.S. report being sexually abused before their 18th birthday. #StateofOURUnion
Women, and especially #WOC, are underrepresented in our political system. Only 20% of members of Congress are women, and of the 105 women serving, only 38 are women of color. #StateofOURUnion
Our newest Americans, 2/3 of whom are women and children, have had their lives and ability to be with their children and families put at risk by the racist policies of the Trump Administration. #StateofOURUnion
Women are the fastest growing population in prison. Most are mothers, and 86% of women in prison are survivors of sexual violence who were themselves not violent or only violent in self-defense. #StateofOURUnion
We will resist the false idea that we must choose who among us will have power. We can — and we must — all be powerful, because our concerns and fates are intertwined. #StateofOURUnion