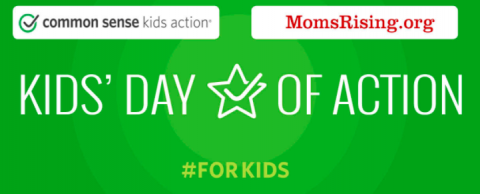 Join Us For a Kids' Day of Action!
In a political climate hostile to our most vulnerable populations, including children and their families, California has provided a beacon of light for sensible policy. Nonetheless, with an economy that ranks as the sixth largest in the world, California still has the second worst standard of living for children in the nation. We can, and we must do better.
That is why Common Sense Kids Action is teaming up with Moms Rising on April 23rd for our 2nd Annual Kids' Day of Action. We will be heading to Sacramento to demand our lawmakers prioritize the needs of children in their policy decisions.
Whether you are an experienced advocate or just someone who cares deeply about ALL children, we invite you to join parents and educators from across California to share your voice. Kids are welcome to participate in this day that is all about them— we will have crafts and snacks ready to go, and then will march around the Capitol with kids leading the way! Following a training on how to effectively communicate with your representatives, we will visit their offices to share our concerns and ask that they support our "For Kids" star-rated legislation. This year we will be advocating for "For Kids" policies that support kids' well-being. Learn how you can speak up for kids and families everywhere with Common Sense Kids Action's "For Kids" legislative ratings.
Following up on last year's "For Kids" legislation and advocacy work, we are currently holding our representatives accountable for how they voted with the recent release of our scorecard. I am pleased to share that our legislators are already paying attention— touting their perfect score on social media and others inquiring with us on how they could raise their score next year. Our Kids' Day of Action should be a powerful reminder to them that we parents expect them to put kids first!
Here is short video from last year to show you what a powerful day it is to have everyday parents enter the halls of power and advocate for children. Hope you are inspired to join us! APRIL 23rd - Reserve your spot here!