Join This March!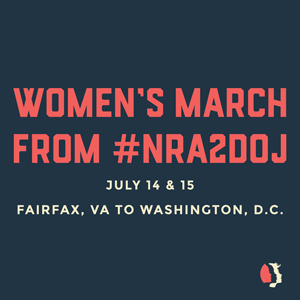 Join The Women's March Protest at the NRA!
The NRA is using dangerous language to rally their members against progressives and people of color.
In a vicious and incendiary recruitment ad, filled with images from recent demonstrations, NRA spokesperson Dana Loesch tells viewers, "They use their media to assassinate real news. They use their schools to teach children that their president is another Hitler." She ends the video by saying, "The only way we stop this, the only way we save or country and our freedom, is to fight this violence of lies with a clenched fist of truth. I'm the National Rifle Association of America, and I'm America's safest place."
Violence is never the answer. The NRA is creating an illusion of safety for their members by threatening the safety of others. We will not stand for it.
Please join MomsRising and the Women's March for a mass mobilization for our safety. Join us in front of NRA headquarters in Virginia on Friday, July 14, at 9 a.m. for a rally followed by a powerful action.
==> RSVP now.
In response to the video, Women's March co-president Tamika Mallory penned an open letter to the NRA asking them to remove and apologize for the ad. In response, the NRA released a new video attacking Tamika and other leaders personally and extending the false narrative that our movement is a violent threat to public safety and using the kind of inflammatory speech that leads to acts of hate and violence. The second video was clearly meant to create a chilling effect on our communities speaking up and using the power of our collective voice. But Tamika will not be silenced, and neither will we!
MomsRising unequivocally joins the Women's March and other partners in denouncing the video and calling on the NRA to take the following actions:
1. Take down the recent irresponsible and dangerous videos from all social platforms immediately.
2. Issue an apology to the American people for the video that suggests armed violence against communities of color, progressives and anyone who does not agree with this Administration's policies.
3. Make a statement in defense of Philando Castile's Second Amendment right to own a firearm, demanding that the Department of Justice indict the police officer who killed Castile for exercising that right. 
Make sure the NRA hears our demands by participating in a mass mobilization for our safety in front of NRA headquarters on Friday, July 14, at 9 a.m., followed by a powerful action.
The more of us who gather, the louder our voice, so RSVP NOW!
Women's March and partners are mobilizing a mass demonstration, grounded in the principles of Kingian nonviolence, to denounce the false and intimidating rhetoric of hatred and send a clear message that our movement will proudly and bravely continue to strive for the respect of the civil and human rights of all people.
We will gather at 9 a.m. in front of the NRA Headquarters in Fairfax, Virginia. The rally will begin promptly at 10 a.m. Following the rally, promptly at 12 p.m., we will begin an 18-mile march from the NRA to the Department of Justice. Then we'll gather at 10 a.m. the next morning at the Department of Justice.
*You can join just the rally, just the march, or both. Please let us know how you will participate by RSVPing here.
Please forward this email to your friends, family and anyone else you think should know about the rally and action.
Together, we will be a strong voice for free speech and the safety of our families and communities.