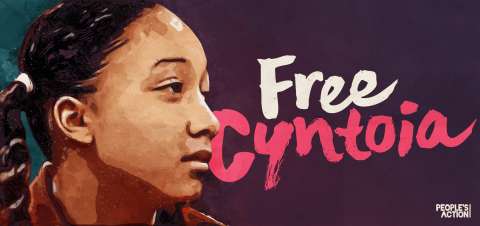 Join the National Week of Action to Free Cyntoia Brown! #Clemency4Cyntoia
Because of your support we have been able to flood Gov. Bill Haslam of Tennessee's office with over 6000 calls a day in the past couple weeks. Lets keep this going! Together we are powerful and Together is how we will Free Cyntoia! 
Sign our petition HERE.
National Call in to Demand #Clemency4CyntoiaBrown - All Week Long
Call Govenor Bill Haslam's office at 1-615-741-2001 or be connected toll free through our MomsRising call in line at 
1-855-976-1895 ! Here is a script and some tips to help!
Here's what to say when they answer:
Hi, I'm [state your name] and I am calling on Gov. Bill Haslam to grant clemency and free Cyntoia Brown from prison.
Cyntoia Brown has been in prison since she was 16 years old and no young person should be punished for being a victim of abuse and trauma.
Gov. Bill Haslam cannot wait any longer. Cyntoia's freedom matters. The governor's leadership is important and Cyntoia is counting on him to do the right thing now.
Will the Governor support the immediate release of Cyntoia Brown?
A couple of tips to keep in mind:
Be polite and calm. While we might be angry, we need to send a consistent message that can't be twisted to discredit us.
Stick to the message provided, but feel free to express it in your own words.
Read the script once or twice before calling, and even practice saying it aloud if you like.
If you are calling after hours please leave a message. 
If you cant get through you can leave a comment/message on the voicemail.
TUESDAY DECEMBER 18
Governor Day: Call Gov. Haslam and call your own Governor (especially if you they are a member of the Republican Governor Association, of which Haslam is President)
WEDNESDAY DECEMBER 19
Representatives & Senators Day: Write your elected representatives and demand they speak up for Cyntoia
THURSDAY DECEMBER 20
Clergy & Faith Day of Action
FRIDAY DECEMBER 21
Cyntoia Day: Write a letter to Cyntoia & help put money on her books
Updates to this schedule will be posted at FreeCyntoiaBrown.org.