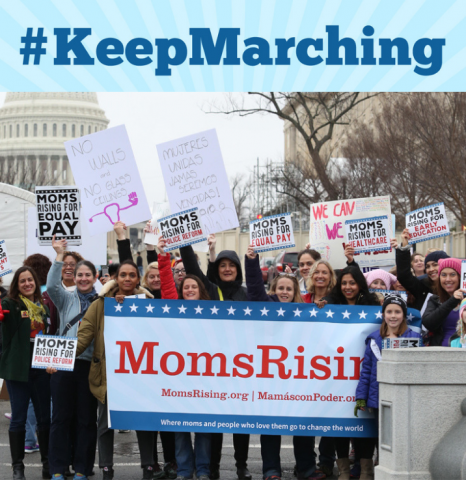 Join the January #KeepMarching Online Meeting!
2020 is going to be huge. Here are MomsRising, we are refreshed and ready to GO, FIGHT, and WIN BIG on the most critical issues today impacting our families and communities.
And we know you're ready, too! To help get everyone's heads in the right space for the work ahead, we have organized an amazing discussion, where leaders on the front lines of fighting for change will join us to share their expertise on voter engagement, workplace justice, and gun control. This is where you learn, think, and get your questions answered as you make your own action plans!
Check out the program below, and then click here to RSVP to let us know you'll join us!
We'll be talking about:
I. Elections 2020: How to win on voter engagement and turnout! With special guests Kristee Paschall, Director of Strategic Initiatives at Community Change Action, and Wendoly Marte, Director of Economic Justice at Community Change Action.
About 58% of eligible voters vote in Presidential elections, which leaves a lot of room for improvement. Well, this November, we'll need all the improvement we can get to ensure that all of America's diverse communities are properly represented at the polls. In 2018, Community Change Action piloted an experiment that reached out to infrequent and never-voters in Michigan, Nevada and Florida that resulted in dramatic results — in some communities increasing early voting as much as 900 percent. Kristee and Wendoly join us to tell us how they did it, and how we can work together to get similar results in 2020. 
II. National Paid Family Leave: Change is happening! With special guest Ruth Martin, MomsRising Vice President for Workplace Justice
The United States is one of only two countries in the world without some form of paid family leave policy. Despite the political headlines out of Washington, DC, policy making is actually not at a complete standstill, and exciting work is happening right now that is moving a national paid family leave policy forward! Ruth joins us to give us the low down, and how you can help.
III. Virginia and Guns: How did Virginia become ground zero for gun extremists and white supremacists? With special guest Martina Leinz, Brady Campaign Board Member and President of the Northern Virginia Brady Chapter
Every year in Virginia, Martin Luther King day is lobby day for gun policy, when gun safety advocates and pro-gun adherents hold competing peaceful events and then visit state lawmakers' offices. This year, however, gun extremists (including neo-Nazi and white supremacist groups) from across the country descended on Richmond in the thousands to "defend Second Amendment rights" after the November 2019 Virginia elections swept into office a gun-safety majority that promised sweeping reform. Find out what happened and how we got here from Martina, who was on the ground in Richmond on MLK Day. 
Sign up now for this powerful conversation!
#KeepMarching online meetings are designed to give you the inside scoop on what's happening on issues and politics, fill you in on MomsRising's hot campaigns right now, and hear what YOU have been up to. We'll be using Zoom, so you can participate via video conference OR just phone in if you prefer (though video is best so you can see visuals and because we'd love to talk face-to-face!).
Your perspective is crucial to our work -- and we want to hear from you! MomsRising needs our members more than ever in the fights ahead.
Please help us keep up our team-building work in 2020 - join us for our January 30 Zoom meeting at 8PM ET/5PM PT! RSVP NOW ⇒ https://action.momsrising.org/survey/km_webmeeting_Jan30/?source=blog
Looking forward to connecting with you over video or phone on Thursday, January 30!
Together, we'll never stop fighting for the change our families and communities need.