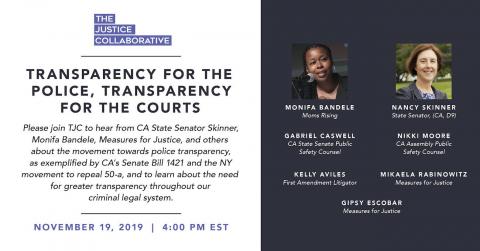 Join Monifa Bandele for Webinar on Transparency in Policing
Please join MomsRising's Senior Vice President, Monifa Bandele, on today's webinar hosted by The Justice Collaborative called Transparency For The Police, Transparency for The Courts. She will be joined by State Senator Nancy Skinner (CA, D9), Gabriel Caswell of the CA State Senate Public Safety Counsel, Nikki Moore of the CA Assembly Public Safety Counsel, Kelly Aviles of the First Amendment Litigator, Mikaela Rabinowitz of Measures for Justice, and Gipsy Escobar of Measures for Justice.
California State Senator Nancy Skinner, author of the landmark legislation SB1421, will join First Amendment litigator Kelly Aviles, and legislative staff counsel to discuss the fight to enact and implement her legislation that increased access to records of police misconduct in California.  
Monifa Bandele will present on the movement in New York State to repeal 50a, the law that shields police misconduct records. 
This webinar will also feature Mikaela Rabinowitz and Gipsy Escobar from Measures for Justice, who will discuss the need for data transparency throughout the criminal legal system. 
Register here: https://zoom.us/webinar/register/WN_tlBDLszrQwu2Dxf1Vycmog