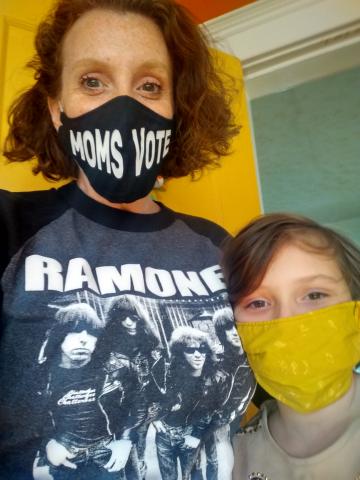 I've Got My NH Voting Plan! How About You?
Unless you've been really good at avoiding all media, you know that election day is approaching at a rapid speed. November 3rd is how many days away now?!?  Are you registered?!? Check your status here: https://app.sos.nh.gov/Public/PartyInfo.aspx
No worries if you are not.  You have time to request your registration by mail (the last day to do this is October 21, 2020), OR go to the city/ town clerk's office and do it, OR you can register in person on Election Day at the polls.  To find out your clerk's location you can search it here: https://app.sos.nh.gov/Public/ClerkDetails.aspx. 
To register to vote:
"You will need to complete a standard Voter Registration Form and show proof of having established a domicile in the town or city where you will vote.  View acceptable forms of proof of having established domicile. If you do not have documents to prove a qualification, you may prove identity, age, citizenship, or domicile by completing an affidavit that is available from the clerk."*
Okay, that's done.
Do you have a plan to vote? Why do you need one?
Party politics aside, voting this year is very different and confusing.  Due to the Covid-19 pandemic many are worried about exposure in the polling place.  Well, lets address that first.  In New Hampshire, the Secretary of State has allowed for anyone with concerns about Covid-19 to be able to request an absentee ballot so that they may vote by mail. https://sos.nh.gov/elections/voters/absentee-ballots/. 
You have until November 2nd to request your absentee ballot.  This can be done in person at your city or town clerk's office or on the website for the Secretary of State.  As we are only a handful of weeks out from the election, requesting it in person is your best bet for timely service. Also once you submit you can check on your absentee ballot status here: https://sos.nh.gov/elections/voters/absentee-ballots/absentee-ballot-status/
If you receive your ballot by mail, you need to mail it back as soon as possible to avoid any delays in the mailing process.  Fill out the ballot, sign the inner envelope and make sure it is secure in the outer mailing envelope. Some are doubling the postage on the whole thing to ensure that there are no issues- that's a personal call however. 
If you don't feel comfortable mailing your ballot, you can return the completed ballot in its envelopes to your city clerk. It is recommended that you call ahead to make sure they're open. ACTUALLY- you can go to the city clerk and request your ballot, go to your car and fill it out or perhaps to a quiet corner of office if they allow you to do so, do the whole double envelope routine and then return it to the clerk.  This is a great option if you're able to do it. As before- call the clerk's office to learn their operating hours and the specific timelines they have for returning ballots directly to them.
As always, one can vote in person on Election Day.  You can register on the day of and cast your ballot right afterwards.  We've seen long lines at polling stations across the US already with early voting and you should be prepared to spend some time waiting. November can be cold- bundle up and wear some comfortable shoes.  Most importantly, wear your mask and do not touch it- over the nose and under the chin is the only way it should be worn.  If you need to register, have your information ready- put it in a large zippered freezer bag so you don't have to touch it directly as much.  Keep some hand sanitizer on you if you feel like you need to.  
As was the case during the September 8th primary elections, there will be folks unmasked either for health reasons or because they don't want to follow CDC guidelines. Do not engage!! Get your civic duty done so you can go about the rest of your Tuesday without incident!
Following the guidelines and being prepared for whichever way you decide to vote is key to cutting through the confusion- now get out there and VOTE!