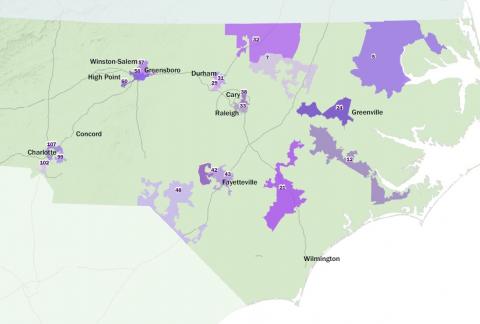 It's past time to restore democracy in North Carolina
If you live in a "swing state" like North Carolina or Texas, or have more than a passing interest in democracy, you are probably aware of how severely many state and federal electoral districts are gerrymandered. Rather than voters being able to pick our representatives, elected officials have drawn lines to pick the voters they want, and packed the rest of us into as few districts as possible. It's been remarkably effective and has led to passing legislation like HB2 with total impunity since the leaders know their majority can't be threatened with the current districts.
For example, I just looked up the latest stats from the NC state board of elections (where I live) and as of 7/29/17 we had 39% Democrats, 30% Republicans, 30% unaffiliated, and less than 1% Libertarian. Meanwhile our NC senate is 70% Republican and our house representatives are 60% Republican.
Earlier this year the U.S. Supreme Court found that NC's districts are racially gerrymandered and told the state legislature to redraw them and hold a special election ASAP. I was skeptical that legislators wouldn't just redraw them in a way that ensured their majorities but didn't follow racial lines as closely. But in fact, they haven't even done that. They have been filing appeals and dragging their feet, as explained in this very helpful article and timeline by NC Policy Watch.
So the NC house and senate redistricting committees are now taking comments at this form, and they are meeting this morning (Friday 8/4) so it's a great time to let them know that you value representative democracy.
Here's more information and ways to speak out from Democracy NC.