'It's Only Natural' for African-Americans moms to breastfeed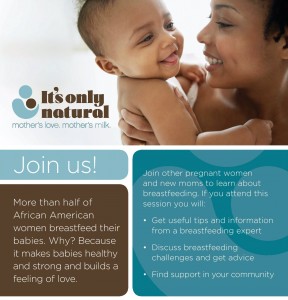 The U.S. Department of Health and Human Services Office on Women's Health recently launched the It's Only Natural resource to support mothers. The videos, photos and some of the content has a specific focus on African-American moms and for good reason. By now, you may be aware of the fact that breastfeeding can be a preventative measure against conditions that overwhelmingly affect African-Americans, including diabetes, asthma and breast and ovarian cancers.
One of the primary recommendations from black breastfeeding advocates to make significant strides in this effort is for more diverse support resources. Recently journalist Kimberly Seals-Allers authored this piece explaining that a substantial increase in black breastfeeding rates requires significant representation of African-American women in the leadership of breastfeeding advocacy organization and in the professions that support it. Materials that give culturally-relevant information to African-American moms and African-American breastfeeding professionals is a critical step towards this larger goal.  As an African-American breastfeeding mother and advocate, I also think those are key steps and that  "It's Only Natural" campaign will be useful.
The resources include candid interviews with black moms and black breastfeeding professionals. The topics covered range from preparing during pregnancy to overcoming cultural obstacles.
Here are parts of the campaign:
Tips for planning to be successful at breastfeeding during pregnancy and right after birth:
http://www.youtube.com/watch?v=zeBdiBImTAk&list=SPB3959C47157F38B3&index=6
Addressing myths, like breastfeeding leads to saggy breasts or that it's sexual:
http://www.youtube.com/watch?v=-NKgyFI_phs
In addition to the video, there's a detailed webpage called Breastfeeding myths in the African-American community addressing many more myths individually:

Other notable parts are: Breastfeeding checklist: How to get a good latch, Overcoming Challenge and Fitting breastfeeding into your life. It's Only Natural is a great resource that I hope is shared widely to normalize black breastfeeding both without and within African-American communities.
Which of the It's Only Natural tools are you excited about or are using already?