Get Your Sticker!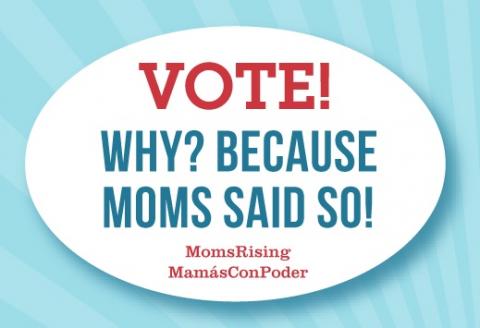 It's Mother's Day! Get the new MomsRising bumper sticker!
You brainstormed. You voted. You chose the next MomsRising bumper sticker - here's what it says:
"VOTE! Why? Because Moms Said So!"
In honor of Mother's Day, let's show our strength by getting this sticker EVERYWHERE, starting with you! All donors get one of our new bumper stickers.
Contribute $25 or more to MomsRising today and we'll send you two new bumper stickers – one for you and one for a friend! All gifts of $50 or more get the stickers PLUS a handy canvas tote.
To inspire your generosity, another supporter has offered to match your Mother's Day contribution, $1-for-$1, until May 8. Don't wait – make your contribution now!
I'm not surprised that a slogan about voting was the top vote getter.
Stopping gun violence; protecting access to lifesaving healthcare; fair pay; advancing paid family leave and affordable childcare; securing racial justice, equality and voting rights -- it's all on the line in this upcoming presidential election.
And moms (and dads!) like you are ready to make a difference!
Show the world that YOU are rising with the new MomsRising bumper sticker pictured at the top of this post, yours as our thank you for any gift.
Your contribution today will power up the most ambitious initiative in MomsRising history – the MomsVote program. MomsVote aims to mobilize mothers in every state to rise up, vote and set the stage for wins in 2017 and beyond.
MomsRising supporters have already played a major role in advancing paid sick days, blocking bad gun legislation, and defending essential health and educational services for low-income children.
Now it's time to expand and mobilize parents to be a major force again for this election – and that's where YOU come in. The stakes could not be higher, and we need every supporter with us on this.
Are you in?
This Mother's Day, help EVERY mom rise with a gift to MomsRising. Remember, every dollar you contribute is automatically doubled thanks to the special Mother's Day Match.
Thanks for all you do to make the world a better plays for moms and families. When we all rise, there is no stopping the MOMentum.
Happy Mother's Day!
P.S. Please don't miss this opportunity to double your mom power for Mother's Day and get your bumper stickers – give now!