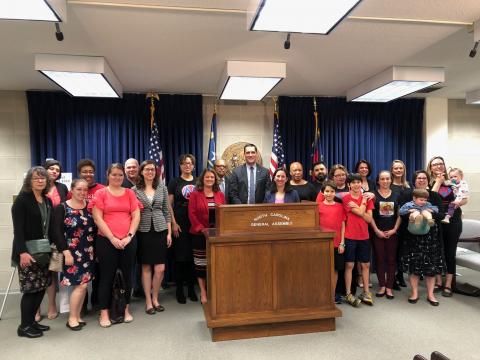 It's happening! NC paid leave bill filed
It's finally happening! This month North Carolina saw our first comprehensive, stand-alone bill filed that would provide paid family and medical leave for our state's families. The NC Families First Act, sponsored by Representatives Meyer, Batch, Clark, and Majeed, would establish a paid family and medical leave insurance program for our state.
This is huge. Right now only 12% of North Carolinians have access to paid leave to welcome a new child, care for a seriously ill loved one, recover from their own serious illness, or deal with needs related to deployment or an injured military service member. This bill would provide meaningful paid time off with job protection so North Carolinians could afford to be there when it matters most. To say this is a big deal would be an understatement – it will be game changing for NC families!
No one should have to go back to work just days after having a baby, no one should lose their job because they get cancer, and no one should risk their financial security to care for an aging parent or injured service member. We need an insurance plan that provides a meaningful length of leave, is accessible to all working people, covers all families, and is affordable, cost-effective and sustainable for workers, employers, and taxpayers.
MomsRising has been proud to work with the NC Families Care Coalition for more than a decade to raise awareness of the need for paid leave and to learn from North Carolinians what they really need in a policy. Everything we've learned has been shared with the bill sponsors, and I am very proud to share that the NC Families First Act overwhelmingly aligns with what we've heard from our members. This is reason to celebrate!
These are some of the key values we've heard loud and clear from our members and are included in the bill:
Job Protection: Every worker's job should be protected when they take leave.
✅- In the bill, all North Carolinians have job protection when they take leave under the program.
Accessibility: Every worker, public or private, should have access to the program.
✅- In the bill, every worker in North Carolina has access to the FMLI program, and self-employed people are also able to opt-in.
Adequate amount of leave: Workers should have access to at least 12 weeks to care for their own illness, a family member, or a new child, and most folks told us they wanted people with multiple or complicated situations to have extra time.
✅- In the bill, all North Carolinians have access to 12 weeks of leave to care for a family member, to bond with a new child, or to deal with needs arising from a military deployment; 18 weeks to recover from their own serious health condition; or 26 weeks to care for an injured military service member.
Affordability: Workers and businesses should share the cost of the program equally, and workers should receive wage replacement on a sliding scale so that most workers get a majority of their wages replaced but low-income workers can get more.
✅- In the bill, workers and businesses share the cost of the program 50/50, and wage replacement is on a sliding scale with most workers receiving 90% of their wages.
A recent study from the Duke Center for Child and Family Policy found that a paid family and medical leave insurance program in North Carolina would reduce infant mortality, nursing home costs, and use of government assistance. The research projected that a program offering twelve weeks leave with 80% wage replacement would save 26 infant lives in North Carolina each year – a 3 percent drop in our state's currently abysmal infant mortality rate! Researchers also estimated 205 individuals would be kept out of nursing home care each year, cutting costs by between $16.7 million and $18.6 million, depending on the room type occupied. Researchers also estimate a PFLI program would reduce the number of individuals needing public assistance through the Temporary Assistance for Needy Families (TANF) program by 956, saving $451,232 to $780,096 in North Carolina's TANF costs annually. It could also provide meaningful support for families addressing a loved one's opioid or other substance abuse addiction. 
Having access to paid family and medical leave would make a tangible, meaningful difference in the lives of thousands of North Carolina families, like Kim's who shared:
Not having paid leave made things difficult from the start: I was in labor for about four days, and my husband had to answer work calls the whole time. Then, because he had stayed with me in the hospital, using up his time off, he had to return to work as soon as we brought our newborn daughter home. Soon after, the unimaginable happened: My husband lost his job just 13 days after I gave birth. I will never forget crying with my newborn in my arms, vowing to her that I would do whatever it took to protect our family's finances and her future. Things got even worse when my employer told me I wouldn't get my full-time hours back. Instead, they were keeping the temp they'd hired to fill in for me during my unpaid leave. I felt so betrayed, angry, and afraid for my family's financial security all over again. If we'd had access to job-protected paid family leave, it would have made an incredible difference.
It would also help sandwich generation caregivers like Willetha, caring for aging parents while raising their children:
I was a caregiver to my mother for over 20 years – while I raised my daughter and battled Crohn's disease myself. During that time, I was part of the unpaid workforce of family caregivers – a stressful, overwhelming, exhausting job I held while also trying to provide for my family. Caring for the mother I loved meant having to work nights and weekends just to keep up at my job.  And like so many workers with chronic health conditions, I needed paid medical leave to care for my own health, too. Without paid leave, life was a constant struggle. This is not a problem of the poor; not having paid family and medical leave is a problem for everyone. Having to provide family caregiving without paid leave can make or break a family. Without it, families are breaking.
It is time to make paid leave a reality for families like Kim's, Willetha's, and all North Carolina workers. Whether it's to care for a newborn you swear already smiles, a parent who is ill, or a spouse battling cancer - being there for family is what matters, and North Carolina families shouldn't have to give up a paycheck to do it.
The NC Families First Act would change the lives of North Carolinians across the state, allowing them to be there when it matters most, while also benefitting businesses and our state's economy. Help make this a reality by urging your lawmakers to support paid family and medical leave for all North Carolinians!