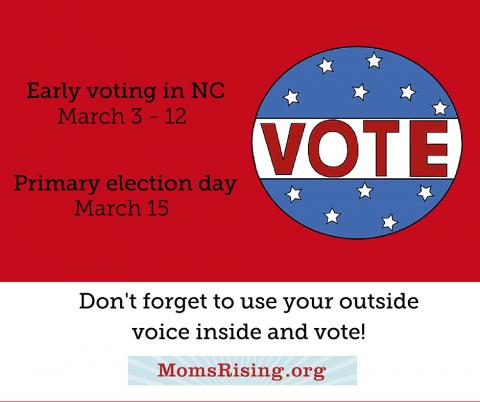 It's finally North Carolina's turn!
We've watched as the presidential primary election has rolled across the nation, and now it's finally North Carolina's turn! Early voting starts today (March 3) here in North Carolina, and MomsRising wants to make sure you're ready with all you need to know.
Voting Information:
Voting dates: You can either vote at an early voting location from Thursday, March 3, until Saturday, March 12, or at your polling place on Primary Election Day on Tuesday, March 15. 
Registration: If you have not already registered, you can register and vote using same-day registration during the Early Voting period at your county's early voting locations. This option is not available on March 15.
Got voting questions? There have been a lot of changes to NC voting laws recently, and we want to make sure you get all your questions answered. Today, March 3rd at 3 pm, MomsRising will be participating in a tweet chat sponsored by nonpartisan voting rights organization Democracy North Carolina that's designed to answer all your voting questions. Follow and join the chat at #VOTEHOTchat and chime in with any questions you have.
If you can't join us for tomorrow's tweet chat, we urge you to visit ncvoter.org or the NC State Board of Elections for answers to all your voting questions.
Help Spread the Word:
Make voting a family affair! Children are more likely to grow up to be voters themselves if they see their parents vote. So we've created some tools to help you make voting a fun, family affair. Click here to download our early voting party toolkit complete with craft ideas, conversation starters, and children's book suggestions all designed to help make voting fun for the whole family!
And please join us in posting pictures of your family voting or messages about why you're voting this election using the twitter hashtags #NCVotes and #MomsVote.
Spread the word-join our NC #MomsVote Twibbon campaign! This is an important election, and it's critical that we all remind our friends to vote. Will you change your Facebook profile picture to remind your friends that their votes (and their voices) matter?  Here's what your picture would look like (with whatever picture you choose):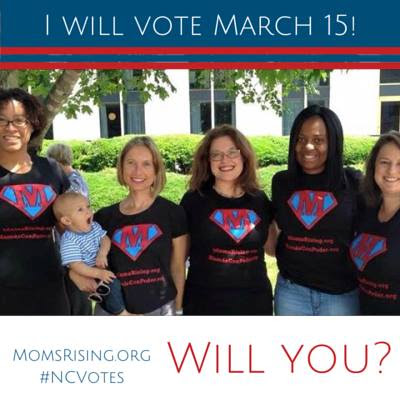 To change your profile picture, click here. It will take you to the twibbon site where you can choose the picture you want. It will save it to a folder in Facebook for you where you can then make it your profile picture. Together we can send a powerful message that voting matters in North Carolina!
The voices of North Carolina moms and those who love them are powerful–but only if we use them. Make your plan to vote today!