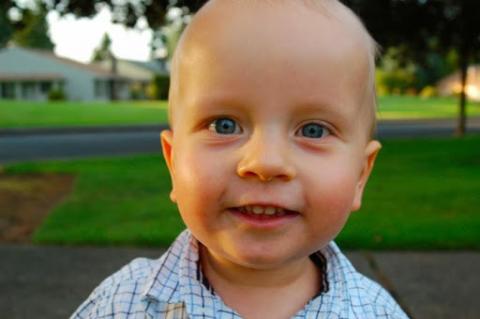 It was a small dresser. And it killed him.
Camden Ellis's second birthday was just days away. To celebrate, his mother Crystal got him a big-boy bed so he could get up in the mornings and dress himself. After all, Camden had just become a big brother to baby sister Caitlynn, and wanted to show his parents he was responsible.
But Camden never got the chance to be a big brother. Days after moving into his new bed, Camden was found pinned underneath the small, three-drawer dresser that held his little pants and shirts, his head trapped inside a drawer cutting off his oxygen.
After celebrating his birthday in a pediatric intensive care unit, Crystal and husband Charlie kissed their blue-eyed boy goodbye. Then they removed him from life support, and donated his organs to other children.
Today, Crystal Ellis needs our help to make sure no other mother loses their child to a furniture tip-over. She's making calls to Senators in an all-out effort to pass the STURDY Act — a bill that requires anti-tip safety standards for dressers, chests and other types of furniture that have killed children — before Senators return home for campaign season.
Will you stand with moms like Crystal, and ask your Senators to and to pass the STURDY Act? In a year with so much bad news, together we can literally save children's lives by passing this bill. 
As part of the safety team at Consumer Reports team, I've spent the past several years working with parents across the country to try and strengthen furniture safety standards. The harsh reality is that a child dies on average every two weeks in the U.S. from a tip-over. And contrary to popular belief, there are no federal safety rules to prevent furniture tip-overs — only voluntary standards, which means parents have no clear idea if the dresser they are buying is relatively stable or potentially life-threatening to their children.
No one knows this more accutely than families who purchased dressers for their kids' bedrooms without a thought that they could be unstable or unsafe - only to have the unthinkable happen.   Many of them, including Crystal, joined together to form Parents Against Tip-overs, a group of parents who have lost children to furniture tip-overs that advocate for stronger standards and laws, like the STURDY Act.  
It's vital we get Senators' attention on this bill now. The STURDY Act has support from both Republicans and Democrats, and the House overwhelmingly passed it last year. But the Senate has only weeks to move or else Crystal and so many other parents will have to start the process again next year in Congress.
Ask your Senators right now to support this common-sense bill that will save children's lives. Sure, there is a lot of noise right now in Washington, D.C., but If moms speak out together we can get Senators' attention and get this bill passed.