I woke up with a startle. It was 1:30 AM and my wife was telling me we needed to go. It was time to have the baby. Luckily, our "nesting phase" had kicked in the previous weekend so we were already packed in anticipation of the big day. Luggage full of extra clothes, baby outfits, books, snacks, and electronics were already set up and waiting neatly by the door. We woke up her son, gathered our bags, and rushed out the door in the calmest way possible. We weren't worried about missing work or not having income to pay the bills. That was taken care of ahead of time.
When we arrived at the hospital, my wife was already far along in the labor process. Before I knew it, she was receiving an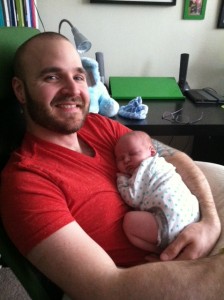 epidural for the pain. With so many things going on at once, I forgot to call in to work to let them know that the moment was finally here. I stepped into the empty hallway and calmly left a voicemail informing my boss that my baby was on the way and I would be starting my planned parental leave beginning that day. As I finished my phone call, I felt a huge weight being lifted off my shoulders. Now, I could just focus on the birth of my first child, without being concerned about losing my job or having to use my precious vacation hours that I had been saving. Everything was taken care of, and it felt great.
My wife and I were very fortunate to have the option to take a leave of absence from work to take care of our son. Through the Family and Medical Leave Act of 1993, or FMLA, I had the option to take up to twelve weeks of job-protected, unpaid time off from work, something that sounded absolutely crazy to me having rarely even had health insurance at many of my past jobs. My wife was able to take six weeks of paid time off from her job to tend to our newborn son. Even though I chose to only take four weeks off from work, it still helped our family tremendously in the welcoming of our newest addition. My wife's paid time off was the perfect amount necessary to make the transition into daycare as they cannot accept children under six weeks old. It also provided necessary income over the weeks we were off from work. The fact that she still received paychecks over this time off was also extremely helpful with meeting the needs of our family.
Unfortunately, many people in the United States are unable to take this time off from their jobs to tend to their newborn child or sick family member, especially in my current field of work, the food industry. The FMLA has requirements that must be met in order to reap the benefits of the act, many of which are unattainable to some workers. According to the law, the employee must have been with the business for a minimum of twelve months, worked a minimum of 1,250 hours within those twelve months, and the employer must have at least 50 employees within a 75-mile radius. These requirements are usually easily met by many full-time workers, but for some lines of work, like the food industry, these requirements are out of reach.
During my wife's pregnancy with our son, I curiously asked around the kitchen at work for more details about FMLA. Having never been given the opportunity to reap such benefits, I was curious how it worked, what I could expect it to be like, how much time I was allowed, what paperwork was necessary. Sadly, only two female employees had ever been given the opportunity to take advantage of the FMLA benefits program. Everyone else had to make due with what they had at the time. Our cold foods cook had to quit one of her previous jobs when her son was born, being forced to find a new job after she was ready to return to work. She had to rely on her close friends and family to help her care for her child, pay bills, all while job hunting. The kitchen manager's wife was able to use the FMLA benefits through her employer for their children, but he told me he could only afford enough vacation time to take one day off from his own job during each of his children's births, depriving him of precious time learning about his new children.
This definitely made me feel very fortunate to have these benefits at my fingertips. I felt bad for my coworkers, and could not imagine having to be away from my newborn child right after birth, or struggling to find someone to care for them while I desperately tried to find employment. This simply seems like the makings of an extremely difficult struggle, especially during such an important part of the lives of all involved. It seems like the people I know that needed this time the most did not qualify to receive it.
After our son was born, my wife and I were sitting with him in our living room. We started to discuss what it would be like to not have this precious time off from work. While we were using our time to gradually transition into having our son around, getting used to our new schedule, diaper changes, feedings, and sleep schedules, we realized that many others don't have that option. They might have to somehow make due without, using any vacation time they had hopefully saved up in anticipation. Even worse, they might not have any vacation time to use, and would have to return to work immediately or risk the chance of losing their job. Sadly, not having this option is a harsh reality for many, resulting in the loss of employment. I've seen numerous fellow employees fired over needing too much time off, only to be replaced by another disposable part-time worker.
Our appreciation for FMLA became increasingly evident during the first month following the birth of our son. My wife and I were enjoying getting to know him, and watching him progressively learn our faces and voices was absolutely incredible. We were able to learn his eating habits and sleeping habits, and I was able to master the art of 2 AM diaper changes. We didn't have much to worry about besides simply allowing our son the opportunity to be welcomed into the world gracefully by his two loving parents.
During our time at home, something serious did occur that we wouldn't have necessarily noticed if we weren't present during these important moments in our lives. Without FMLA, my wife and I wouldn't have realized that our son was not gaining weight at the normal rate for a newborn. A few weeks after his birth, we took him in to get weighed after having some concerns with his eating habits, something we might have missed if we had to return to work immediately following his birth. It turns out that he needed a very minor oral surgery on the frenulum of his upper lip in order for him to nurse properly from my wife. Luckily, the surgery helped immensely, our son was able to feed properly, and he gained weight faster than ever before. Had we not noticed when we did, he might have needed to be hospitalized due to dehydration and possibly malnutrition, which could have interrupted his overall development. The time that we were allowed to spend at home caring for him became priceless to us.
To my wife and I, it is clear that the first few weeks of a baby's life are very important for both the newborn and the parent. We learned so much about him, learning to adapt to him being around, learning his likes and dislikes. We witnessed his first smile, his first laugh, and sadly, his first diaper blow out. Our way of life changed to make room for our little one, and the adaptation was gradual and as stress-free as it could have been. We didn't have to rush back to work, worrying if we missed something important, or leave him with a friend or relative, having to place an immense amount of trust in that caregiver. We didn't have to worry about missing paychecks, or having to try to find a new job. Thanks to FMLA, we transitioned gracefully, and I wouldn't trade that experience for anything.
This post is part of the Fathers on Family Leave Blog Carnival.