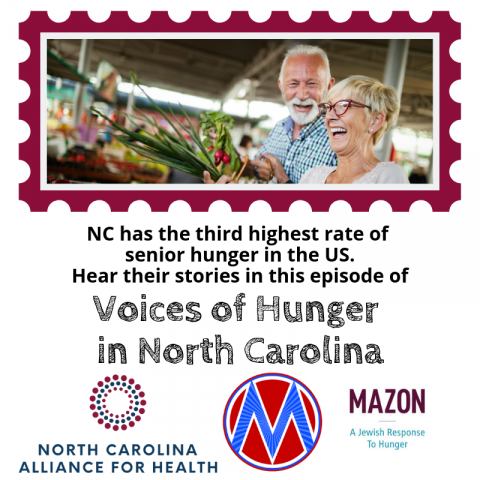 In NC, Many Seniors Feel Pangs of Hunger-- Listen to their Voices in this Podcast
Post retirement years are optimistically dubbed the golden years. But those years are no holiday for many residents of Durham, NC. That's why Durham City has proclaimed the week of Sept. 22-28 as Durham Senior Hunger Awareness Week.  Listen in to the older adults in this week's episode of #Voices of Hunger NC, released in honor of Durham Senior Hunger Awareness Week, as they have a conversation about how they have to stretch their money to make ends meet.   
Millions of older adults nationwide, like the ones you hear from in this podcast, are not fortunate enough to have pensions or 401Ks, and many hit physical and mental limitations early in retirement. For these vulnerable seniors, their retirement means living in run-down housing, being unable to drive, and struggling with food insecurity—a life that's more a drab gray than golden.
This problem is largely hidden because many seniors, especially those living alone, are reluctant to ask for help. We've seen people living at a level of food insecurity that endangers their health but who don't want to "bother the children." Some may not have family they can turn to or have family members who are barely making it themselves.
According to a 2019 study from Feeding America, only three states and the District of Columbia have greater levels of senior hunger than North Carolina. It's hard to imagine, but in our foodie city, an estimated 12,600 older adults, age 60 and older, struggle to get enough food to meet their minimum dietary requirements. Thousands more, who may be above the federal poverty line, still find that healthy food is too expensive, and/or they lack proper nutrition due to mobility limitations, lack of transportation, lack of social contact, and inadequate governmental services and funding.
These are our neighbors. They have worked hard all their lives, yet are living with hunger in what should be their golden years. As older adults we are more vulnerable and often powerless to marshal the resources to sustain a decent quality of life.
Moving beyond awareness, this podcast offers listeners the tools to become informed anti-hunger advocates. We share multiple levels of personal and policy engagement that fit within peoples' busy schedules-- from signing a petition to joining our network of advocates with lived experience of food insecurity.  So please tune in, share your feedback with us, and join our anti-hunger campaign! 
For more information and about Durham Senior Hunger Awareness Week, visit End Hunger Durham.