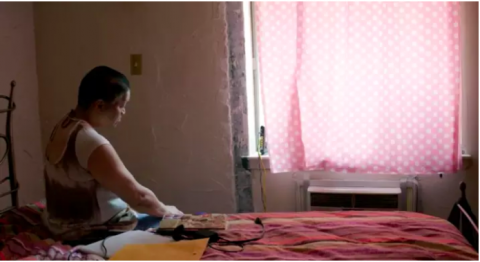 In Honor of Her: Venida Browder and her fight for justice told by her son Deion Browder.
On June 6th 2015, the news of Kalief Browder's untimely death was mourned across the country.  Kalief at sixteen had been arrested for theft of a backpack, a crime he contended he did not commit. Subsequently, he was detained without being charged with a crime at Rikers Island simply because his family could not afford bail.  Kalief spent three years at Rikers without a charge, two of which were spent in solitary confinement. He endured physical and mental abuse while incarcerated, and that violent trauma ultimately led Kalief to take his life. Kalief's story sheds light on a number of issues:  The criminalization of black and brown youth in their schools, communities and our broader society. The targeting of poor families by the criminal justice system, and the devastating impacts these traumas have on people, families, and communities. The all-too silent victims of this narrative are the mothers and families who are left with the pieces of their loved ones broken by the criminal justice system.  
Beatriz Beckford, a Campaign Director at MomsRising who works on the juvenile justice issues, and MomsRising's school to prison pipeline/Social Emotional Development Campaigns connected with Deion Browder, brother to Kalief and son to Venida Browder.  The hope is that this conversation will help to tell Venida Browder's story, one of a woman whose love of her children and whose fight for justice literally broke her heart. Venida Browder died on October 14th, 2016 after a series of heart attacks.  Before Venida's death she worked tirelessly to support her son's transition, left with the broken pieces of her son following his detention at Rikers, an experience that deeply harmed and changed her child forever. After Kalief's death Venida dedicated herself to fighting for justice for her son, lifting his story and those of countless others.  She fought to end solitary confinement and the cash bail system that criminalized children like her own. This piece is an attempt to honor her tireless work, her laughter, her love of her children and community. The work is now carried forward through her remaining children and the legacy she has left behind. Venida, described as a woman of incredible grace and compassion who tirelessly fought for justice for her son Kalief and who championed the civil rights of others in our city passed away On October 14, 2016 at St Barnabas Hospital in New York City. We believe sharing Venida's fight for justice will continue to further the efforts of those working to dismantle the systems that harm our children and families.  We hope this phenomenal woman's story of love and motherhood moves you to fight for justice for those impacted by a broken criminal justice system.
(BB) Too often, mothers--particularly mothers of color--are the invisible victims of the horrors of the juvenile justice system, criminal justice system and the school to prison pipeline.  Tell me about your mom. What was her story, what made her special to you and your siblings?
(DB) My mother was a very loving and kind hearted person. She was everything everyone dreams a mother should be. What made my mother so special to us all was that she gave up her life so her children can have one. She would put our needs before her own. If you let my mother  tell it, her kids was the world to her. She was honest, giving, genuine, supporting, humble and beautiful. My mother is and continues to be the reason we continue to stay strong. She motivates each of us everyday. Her story is still being written, her life continues so her story will never end. I miss her so much!!
(BB) We know the school to prison pipeline typically ends in incarceration, and it doesn't always just start in schools.  It starts in communities whose children and families have been divested from, over-policed, and criminalized for just being.  Tell me about your community, the community your mother raised you in, where you and Kalief grew up? In what ways did you see this divestment from education, schools, well being, and success of the people who lived there?
(DB) My mother raised me and my siblings in a great environment to raise a family in. Everyone knew each other and got along great. My mother moved into our home in the early 1980's and was the first owner of the house as well as most of the other neighbors. So we all grew up in a decent community in the beginning. In elementary and junior high school all of us experienced teachers that was willing to go above and beyond to see that we all succeed in life. As we got into high school teachers tend not to care whether we came to school or not and it changed each of us, Kalief in particular. When you are being told "You are not going to make anything of yourself" from the teachers you start to believe that. You become conditioned and you start to not care. You follow the voice that tells you to do other things. That voice is other people leading you down the path of wrongdoing and you bring that back to your community. So in our case it started in schools and came home to the community.
(BB) What were the things your mother did to affirm you and your siblings despite the things going on outside your home in your community? Mothers are often our first loves, the first people to show us we matter, how did your mother show you and your siblings that you and your futures mattered despite what schools and/or the communities' struggles reflected?
(DB) My mother was our tutor, our teacher and our mentor. She coached through life and helped us navigate through our childhood to prepare us for adulthood. Each day my mother sat down with us and went over what her upbringing was like and why it's important to have a education and why it's important to always stay focused and never give up. My mother never gave up on us despite the challenges she faced trying to raise four boys and one girl. She became our inspiration, especially mine when she showed us how she can juggle being a full time mother and still manage to go to school and get her bachelor's degree. My mother taught us a lesson in life where no matter how old you get an education is still needed. She would walk several miles to and from school because she would give her last for us. My mother told me she had to practice what she preached. If she was going to instill in us that education is important, the best way to do it is by showing us why it was important even if that meant getting up everyday, being a mom and also going to school.
(BB) Your family was so deeply harmed by the broken school and criminal justice systems.  Can you share a bit about the impacts on you, your siblings, and your mother?
(DB) My mother suffered the most. My mother was already battling heart disease. Her heart only pumped at 25% at the time of Kalief's arrest and it took a turn for the worse during Kalief's incarceration and after his release. My mother stressed, cried, blamed and beat herself up about Kalief. They system didn't just fail Kalief, it failed the family. To watch my brother go through so much pain and hurt took a toll on me because I didn't know what to do. My mother would cry herself to sleep at night. All she wanted to do was help her baby. I still can't believe they are not here. I still find it hard to come to terms with knowing that I won't be able to see or hear their voices. I am mentally scarred from have to lose both my brother and mother within months. My world has crumbled since they left. I feel empty inside. I miss them soooo much I would give the world to have them back. The system fails all of us and continues to impact me and my siblings everyday because we will never get to see them again.
(BB) When you recount this in the way you have likely thousands of times, what were the opportunities to change the course of what happened to your brother, your family and your mother?  Where in your opinion did the system fail or succeed?
(DB) My brother died fighting for justice. My mother died fighting to ensure that everyone's voice is heard. These are the success stories that me and my family can walk away with. Kalief believed in justice and he is the face of truth and justice and we as a family will keep that going. I wish I could turn back time relive and redo all of these moment with the knowledge I have now. We tried so hard to help Kalief we was his support system with my mother at the helm leading the fight to bring the Kalief we all knew back. The system broke Kalief, they conditioned Kalief mentally and physically which in the end led to his unfortunate death and the city needs to pay!
(BB) Given everything, what feels important for people to know about your brother, your mother, and what we all can do now to make sure this never happens to another family.
(DB) It's important to know Kalief never gave up. No matter how tough the fight was he persevered pushed through the clouds and made it. He battled with his demons everyday but managed to wake up determined to make something out of himself. It's important to know Kalief wanted to be the voice for all those who didn't have a voice. He wanted to help and support those who have went through the same struggles. I just wish he was here to see what he's accomplished. It's important to know how much my mother worked to become a advocate that she never in a million years thought she would ever be. She was way too shy. My mother never gave up she stuck by Kalief, fought for Kalief and never missed a court date. It's important to know how very sad my mother was how she blamed herself for Kalief's death and ultimately her sorrow consumed and it took her away from us. It's important for everyone to continue this fight and continue to raise your voices louder to make change for the better.
(BB) It is so very clear to me that your mother in all her beauty as you lift up so sincerely represents a beacon, a model of the type of people who give of themselves in ways we can never quantify.  The children, your siblings whose lives she nourished to her best ability, the mantle she took up in the wake of the loss of your brother. She is truly the embodiment of love as justice in public.  In many ways the mothering she did for you and your siblings was her love note to her children, to other mothers in all their forms, and to the world. What is your love note to her, would you be willing to share that with us?
(DB) Losing my mother was the worst pain I ever been through. My mother was my rock, my hero, my world, my everything and I miss her so very much. She gave me strength and purpose to succeed in life. She instilled in me to push past the negative, fight for what you want and believe in myself to get there. I am thankful to have had the privilege of having Venida Ann Browder as my mother for 25 years and I wouldn't trade it for the world. I end by saying to my dear mother, I am proud of you! You are truly an inspiration to many around the world. You have touched so many hearts, filled so many eyes with tear, but above all lit the fire in people's heart to become a voice to change and it's because of you and Kalief why we have change. I love you so much, I miss you so much. love your son Deion!
(BB) First, Deion thank you and your family for sharing your story, your pain, your deep love for each other.  That is justice in action. Love that ripples into the lives of all of us. As you have so beautifully articulated this is important work we must all do to dismantle a system that pushes kids, particularly black, brown, indigenous, disabled, and LGBTQ out of schools and into the juvenile and criminal justice systems.  The harm and trauma this causes countless children and families is real and deeply violent. You know this all too well, and I thank you for your bravery.
Kalief's tragic and unnecessary death was preventable.  We must name that explicitly. The criminalization of black children in schools and communities, the targeting of the poorest amongst us by the criminal justice system, and the invisibilization of entire populations of people is what systematically builds the school to prison pipeline.  This happens through pushout and exclusionary school discipline policies, schools districts that invest more money to put cops in schools versus counselors, and through a blatant disregard for the trauma children face in our society. Still there is a movement of mothers, caregivers, and young people who fight tirelessly each and every day to break the pipeline.  Venida Browder was one of those people, and her children continue to ripple the work she gave her life for now in their efforts to educate and activate people. We too can work to dismantle the school to prison pipeline and send ripples through our communities that build the types of schools, and restorative justice we deserve.
MomsRising is working to dismantle the school-to-prison pipeline from the point of suspension to the point of youth incarceration. Challenging the practices and policies that push students out of schools and into the juvenile and criminal justice systems. When we work to dismantle the school to prison pipeline we open up opportunities to advance the cradle to college pathway.
To learn more about our work and to get involved please visit us online at momsrising.org/kidsrising