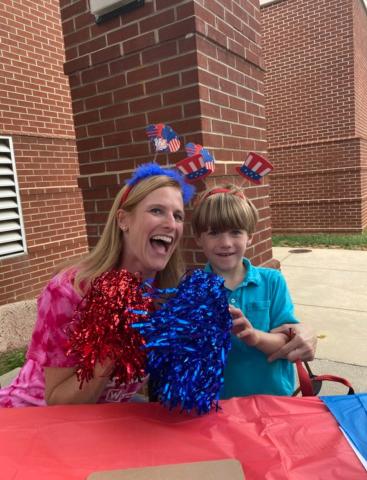 Impressive November MOMentum, Friends!
What a month for mom power!
When democracy needed it most, MomsRising supporters like you stepped up in a MASSIVE way to get out the Mom Vote for the midterm elections – including handwriting nearly a million postcards to give moms who are infrequent voters the information they need, getting out more than 6.2 million calls and texts to help people vote, and so much more. You defied all the expectations and predictions, CRUSHING records for volunteering, reach and turnout.
Thank you.
You also powered up a new, much-need set of resources – Saving our Schools: Activating Parents in the Age of CRT-Backlash, featuring Professor Kimberlé Crenshaw and Ibram X. Kendi – designed to give parents and caregivers the knowledge and guidance to advocate for safe, honest and inclusive education.
And you kept the pressure on for everyone to have reproductive freedom, sharing deeply personal and powerful experiences on abortion for our Reproductive Justice is Maternal Justice storybook.
Scroll on to read more about this impressive MOMentum you made possible.
Thank you for rising with us.
With love and gratitude,
Kerri and everyone at MomsRising.org
---
The Inflation Reduction Act (IRA) placed a $35 cap on insulin for people 65 and over and on Medicare. But millions of people on private insurance still pay substantially more for insulin. Insulin should be easily available to anyone who needs it. Urge your members of Congress to cap the price of this lifesaving medication for everyone!
---
MOMS VOTE SUCCESS
We're still happy dancing! Together, through our "Be a Voter, Raise a Voter" Moms Vote program, we helped get out more moms and people to vote than anyone expected on Nov. 8, making history together.
The most impressive stat, over 64,000 volunteers made it happen, writing postcards, sending texts, making phone calls and running kid-friendly Treasure Boxes near polling places in New Hampshire, North Carolina and Pennsylvania.
We are encouraged by the high turnout for early voting, are proud of our work and know that it's also building long-term voters and a movement for change.
Thank you for believing in our power together.
---
NEW RESOURCE
Parents, students, and educators across the country are experiencing a climate where far-right attacks have made our schools playgrounds for partisan politics and racial division – through book bans, anti-critical race theory legislation, attacks on LGBTQIA+ students and educators, bans on comprehensive sex education, and ignoring the calls for student mental health support.
To push back, and to help truth win out, MomsRising and partners sponsored a parent teach-in featuring keynotes from Professor Kimberlé Crenshaw and Ibram X. Kendi, parent stories, and ways to take action!
In addition to the video, we created a comprehensive digital toolkit with resources for taking action and activating your community.
Watch the Teach In
Download the Toolkit
---
REPRODUCTIVE JUSTICE
In the just-released Reproductive Justice is Maternal Justice storybook, MomsRising members share their real and unique experiences on abortion and share why reproductive health care is important:
"My story is that of choice, and I made a choice and I stand by that choice and I thank the gods that I was able to make that choice for myself."
"We [myself and my doctor] are the only ones who need to be involved in the decision making. No one else."
"As of right now, abortion is still legal where I live, but I'm terrified of a future where it may not be. I'm frustrated that when looking for potential states to move to, I need to first check if I will have basic human rights there. Having access to abortion saved my mental health, and my life."
Your generosity helped bring these stories to light. Thank you!
---
MOMSRISING IN THE NEWS
MSNBC: The Power of Mothers in the Midterms
"We found that if a candidate supports care policies then people are 84 percent more likely to vote for them. If they support care policies along with abortion care, then that number of support goes up even further." — MomsRising Executive Director Kristin Rowe-Finkbeiner
UNIVISION: Ten states, with a strong Hispanic presence, will send stimulus checks before the end of 2022
[Spanish] MomsRising/MamásConPoder Vice President Xochitl Oseguera is featured at 01:03
THE WASHINGTON POST: Finding child care is still impossible for many parents
"The situation has become so tenuous that parents have told her they are taking out loans for child care or considering unsafe arrangements, like leaving young children alone for periods of time or with frail elderly family members." — MomsRising Early Learning National Director Nina Perez is featured
ASSOCIATED PRESS: In election, support for abortion rights was about much more
"The pundits were saying abortion doesn't matter anymore, and care doesn't matter anymore — but we were hearing it loud and clear." — MomsRising Executive Director Kristin Rowe-Finkbeiner
YAHOO NEWS: Biden Barely Mentions What Saved Democrats in the Midterms
"The ballot measures yesterday in California, Kentucky, Michigan, Montana, and Vermont, coupled with the vote this summer in Kansas, make crystal clear that the country rejects the devastating abortion bans that have caused immense suffering and chaos." — MomsRising Executive Director Kristin Rowe-Finkbeiner