Take Action!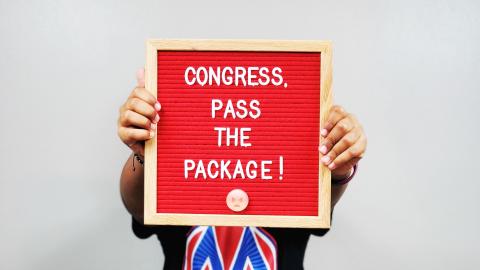 ***Important*** Tell your Senator to vote YES on the COVID-19 package!
Listen, I'm going to get real with you. I know that you might be more than a little anxious right now and unsure of what is going on with the coronavirus (COVID-19) pandemic spreading. I am too.
The good news is that late last night Speaker Nancy Pelsoi and leaders in the U.S. House of Representatives took decisive bipartisan action to help our families during this pandemic by passing the Families First Coronavirus Response Act that enables people to get free coronavirus testing and also has the ability to take paid leave to care for themselves and their family members— and now we need YOU to speak out and tell the U.S. Senate to do the same. ! There's no time to waste. 
***SIGN OUR LETTER to your U.S. Senators urging them to follow the U.S. House and immediately pass the Families First Coronavirus Response Act to protect our healthcare, nutrition, workforce, and economy as we deal with the coronavirus outbreak. 
The bipartisan Families First Coronavirus Response Act is an important bill because it does the following:
Free coronavirus testing for everyone who needs a test, including those without health coverage;
Paid emergency leave with both 14 days of immediately available paid sick days to use during public health emergencies and up to three months of paid family and medical leave;
Strong food security initiatives, making sure SNAP, WIC, student meals, meals in childcare settings, seniors' nutrition, meals for people with disabilities, and food banks are ready to help those who would otherwise go hungry;
Badly needed, increased federal funds for Medicaid;
Necessary funding for states to prepare for increased Unemployment Insurance caseloads.
The U.S. House has taken the lead to pass this important bipartisan legislation and we need to make sure our U.S. Senators do the same- a pandemic is not the time to play partisan politics! Senate Majority Leader Mitch McConnell sent Senators home for a long weekend, further delaying action on this important action. 
We need to let the U.S. Senate know NOW that we expect them to be in D.C., working on this legislation, and protecting our families.
***Add your signature to our letter urging your Senators in your state to pass the Families First Coronavirus Response Act immediately!
This legislation, while an important step in the right direction, is just the beginning of what our families and country may need in the coming weeks and months.
We are also advocating for the support our families need to ensure those of us living paycheck-to-paycheck, those impacted by disability, those of us who have pre-existing conditions or chronic illnesses, who live in mixed status households, who are or have loved ones who are incarcerated, and who are struggling to balance work and childcare while our kids are home.
We are standing shoulder to shoulder with every single MomsRising member and we will have each other's back in these trying times because together we are a powerful force for women and families and we will make sure our voices are heard.
We will be sending your signatures up to members of Congress on the Hill very soon, so please make sure your friends and family quickly sign our letter as well—share this email with them and post our action link on Facebook.
Thank you for staying engaged and continuing to speak out for all of our families in this crisis.
P.S. Have a second to make a call as well? Text COVID19 to 747464 and we will connect you with your U.S. Senator's office, where you can tell them to pass the Families First Coronavirus Response Act ASAP!