Support the Work!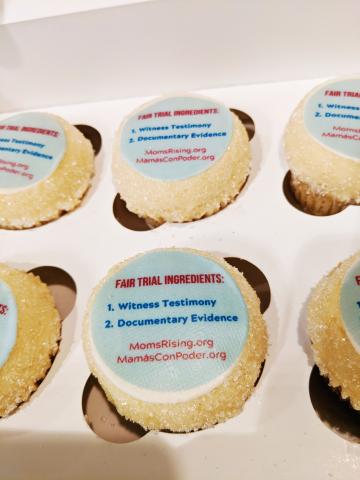 Impeachment Cupcakes to the Rescue!
Last week, MomsRising delivered impeachment cupcakes to U.S. Senate Republican offices with the message: "Don't frost the American people. Bake in democracy now!"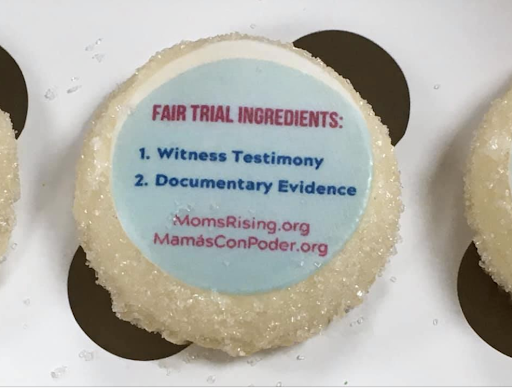 And you know what? Even though they may not all have liked our message, every single GOP office we visited welcomed us and accepted our cupcakes, along with tens of thousands of petition signatures and messages from across the nation. In other words, they got our message loud and clear! This week, we are reinforcing the message with more cupcake and message deliveries to U.S. Senators' offices back in their home states.
Can you help us cover the costs of our impeachment cupcakes that show exactly what ingredients are needed for a fair trial -- and demonstrate our clear rejection of the GOP's sham trial so far?
We have been watching the U.S. Senate impeachment hearings with increasing concern about the future of our democracy. The Republican majority under the leadership of Sen. Mitch McConnell refuses to call witnesses or allow documents, and has even been overtly conspiring with the White House to get the process over with as soon as possible.
MomsRising is using our outdoor voices (and cupcake power) to let U.S. Senate leaders know that the sham trial is not okay. We are letting them know that moms and families understand that the ingredients of a fair trial include 1) witness testimony and 2) documentary evidence.
Moms have the creativity, will, and expertise to win this fight, but cupcakes require organizing and other resources that cost money, and so will the other powerful actions we have up our sleeve. Would you invest in mom-organizing to save our democracy?
Trump's impeachment trial is not over. We will not let up in telling GOP senators that hiding evidence is unacceptable, and we will continue pressing our members of Congress to stand up against corruption and defend our democracy. No one fights harder than moms and our families, because we are doing it for the people, communities, and country we love.
But it's going to take a sustained pressure campaign over the phones, in the press, and in our communities. MomsRising is in it for the long haul, but we need your support.
(We'll also be delivering some "Thank you" cupcakes to the U.S. House impeachment managers for the great work they did laying out the case for impeachment in the U.S. Senate trial that say, "Protecting our democracy isn't just sweet—it's heroic!")
Impeachment cupcakes cost money, and so do driving phone calls, working with the press, and organizing our grassroots power. Be a part of our fight and make a donation now. Every dollar helps!
Together, we are powerful, and we will never stop fighting for our families, communities, and our democracy.