Immigration Reform Picture Not Complete Unless It Includes the Face of Women
"Many people cross to seek riches, a truck, a new house, but mothers need to be with their children out of necessity. I am only crossing to see my daughter again, nothing more." – Maria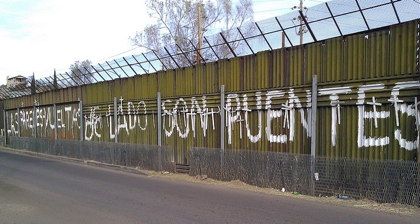 President Obama recently announced that immigration reform will be a top priority in his second term. As comprehensive immigration reform begins to take shape at long last, it is imperative that we see the face of immigrants for who they really are. According to a Pew Hispanic Research study released this spring, total illegal immigration from Mexico has drastically fallen, but 46% of immigrants still coming from Mexico are women. This data flies in the face of traditional stereotypes of migrants who cross the border in droves. The picture of a wave of single males flooding the border for work is outdated and inaccurate.
Last year I had a chance to talk with recently deported migrants at a bus station in Nogales, Mexico. I was able to hear their stories, and why they risk the journey. I was collecting their stories for a report by No More Deaths for their report "Culture of Cruelty" on rampant abuse of immigration detainees by U.S. Border Patrol. What struck me about the people I interviewed was that it was their family ties in the U.S. that compelled them to brave the odds and face fears of almost certain mistreatment and abuse along the way. They were well aware of the dangers, having already made the journey and been turned back, but their desire to reunite with loved ones gave them the uncommon courage that desperation requires.
Many of the migrants I approached had a look of defeat, anxiety or sheer exhaustion. But on Maria's face I saw a look of determination. As I spoke with Maria she explained that she had attempted to cross the border three times in the past two months to try and reunite with her five-year-old daughter who is a U.S. citizen. Maria had lived with her family in North Carolina for many years, but had returned to Mexico because her father was dying. She was able to take care of him and attend his funeral, but was now unable to get back to her family. After more than a year of being separated from her daughter, she was driven to desperation. She said, "Many people cross to seek riches, a truck, a new house, but mothers need to be with their children out of necessity. I am only crossing to see my daughter again, nothing more."
Maria's young daughter was very confused about why they have been apart so long. When Maria called, her daughter told her that she wants to be with her, saying, "Mami, I will give you papers when I grow up." Maria said, "She has to sacrifice her mother's love to stay in her country. But, children don't only need education; they need their mothers to care for them too."
Another woman I spoke with in Nogales was seven months pregnant. Her name is Angelica and she is from Guerrero, Mexico, but her brothers and sisters, husband and one-year-old daughter all live in Kansas. Having returned home to Mexico, too, out of necessity, Angelica was now frantic to get back to her little daughter Rubi. When I met her, she had attempted to cross into the U.S. two times in the past month. The coyotes treated her group horribly, stole from them and physically and mentally abused them. She also suffered abuse by Border Patrol agents. Despite the abuse, Angelica said she would surely try again to reunite with her family.
When we parted, Angelica told me that if she could tell one thing to people in the U.S. it would be that "all migrants are not the same. We are individual human beings. If one American does drugs, you wouldn't say that all Americans are drug abusers, would you? Please treat us with individual dignity."
To truly envision the picture of current migration we must include the faces of mothers like Maria and Angelica, who, despite the fact that they are almost three times more likely than men to die of exposure to the elements are willing to risk crossing the border to reunite with their children. Immigration policy makers must make the needs and rights of women a priority. For the sake of Maria and Angelica and countless others, immigration policy must be driven by the ultimate goal of family unity.
The Women's Refugee Commission urges that the following be included in comprehensive immigration reform to protect women in immigration custody and to preserve family unity:
• A path to legalization must be established that is respectful and inclusive of women, children and other vulnerable groups and which does not hinge eligibility on the application of a male principal applicant.
• Women and children must have their own path to regularize their status.
• Mechanisms for establishing the relationship between child and applicant must be clear and inclusive.
• Immigration laws must respect family unity.
• Detained parents must be provided with information on parental rights and meaningful opportunities to participate in the judicial process involving custody of their children.
• Mandatory detention laws need to be eliminated and where detention is required by the individual circumstances, alternative forms of immigration custody should be utilized.
• Facilities that detain immigrants need to be monitored by NGOs and other independent organizations to ensure the safety of women and other vulnerable groups.
• Meaningful, enforceable prevention measures must be put into practice to protect all migrants against sexual assault, abuse and rape in U.S. immigration custody, including implementation of the Prison Rape Elimination Act in immigrant detention facilities.
• People in DHS custody who are seeking asylum or are victims of or at risk of trafficking must be identified and ensured protections entitled them under international law.
Immigration reform is not comprehensive or complete unless it includes specific safeguards for women and children. Women like Maria and Angelica will continue to risk their safety and their lives to be with their families, and they must not be left out of the picture.