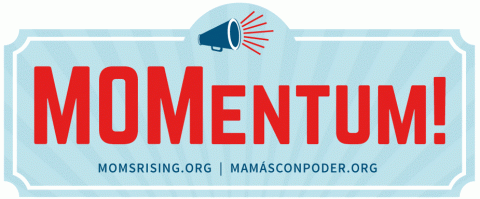 Immigration, Paid Leave, Black Maternal Health: Your April MOMentum
Moms' leadership and power has never been more critical as we enter another month of uncertainty as a nation. In fact, MomsRising has turned up the volume even more on the issues we fight for every day: paid family and medical leave, expanded unemployment insurance, food and nutrition support, paid sick days, healthcare reform, childcare support, and more. Together, our voices have ensured these issues are front and center in every legislative package before Congress. Make no mistake: women's and moms' leadership made this happen, and that's worth lifting up.
Got questions about the new COVID19 support programs? We have your back! Scroll down for a link to our blog with a Q&A and a video of our recent webinar featuring experts, including our own Elyssa Schmier, clarifying your rights. Check it out!
Thank you for being part of the MomsRising movement.
---
ACTION: Free Migrant Children and Families From Detention
Your support gave flight to a beautiful and powerful #FamiliesBelongTogether #COVID19 campaign on Instagram and Twitter to release migrant children from cruel and unsafe detention centers. 
VICTORY: What You Need to Know About the New Federal Emergency Paid Leave
Big News! For the first time ever, thanks to the new Families First Coronavirus Response Act, our nation will have a *limited*, nation-wide, paid sick days and paid family leave law in place during the COVID-19 crisis. Your gift fuels the MomsRising MOMentum behind this win — thank you! 
RESOURCES: COVID-19 Support Programs Webinar
Were you one of the hundreds who joined our webinar about COVID-19 support programs, and now want to review all that info? Or maybe you missed the webinar but would like a recap? We've got your back: MomsRising campaign director Elyssa Schmier has created a blogpost with the resources shared during the webinar as well as a Q&A section to respond to questions submitted by participants. *You can check it out and share with your circles: this valuable resource provides clear guidance on the nuts and bolts of applying for assistance and the state of play on paid sick days/paid family leave, unemployment insurance, nutrition assistance, and the impacts of these programs on immigrant families. 
MEDIA SPOTLIGHT: On Black Womanhood, Black Motherhood, and The Systems That Harm US
To close out Black Maternal Health Week, ESSENCE invited MomsRising Senior Vice President Monifa Bandele to speak on a dynamic Facebook panel to discuss systems of harm, solutions and healing within Black motherhood. From Kirsten West Savali's article featuring the video: "As Monifa Bandele so powerfully said, "If [Black women] aren't a part of creating the solutions, we'll be left out of them."
MOTHER'S DAY!: Dedicate Your Mother's Day Donation
Honor or memorialize a mom you love with a gift that supports MomsRising Together. You can announce your gift immediately with a beautiful e-card of your choice.