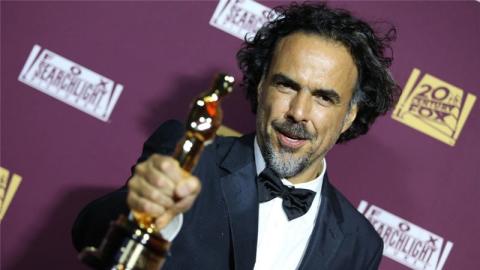 Immigration Makes Guest Appearance at Oscars 2015: a MomsRising Blog Carnival
Actor Sean Penn's ribbing of Mexican director Alejandro González Iñárritu -- "Who gave this son of a b**ch his green card?" -- may have been intended as a joke between two old friends, it had no place on this year's Oscar stage. 
Oscar fact: Iñarritu is the 5th consecutive foreign-born person to win the best director award, although no other winner has been the butt of such a joke. Also, at a time when 11 million lives – three-quarters women and children – are in limbo due to Congress's inaction on immigration, we need action, not jokes. That is why we have dedicated this space to talking about the real issues, real insights, and real complexities relating to  immigration, contemporary culture, and yes- to the Oscars, too.  
Please take a moment to leave comments and share the stories with your social media networks.
On a brighter note, we want to congratulate Alejandro González Iñárritu on his outstanding and deserved wins at this year's Oscars ceremony, and thank him for his heartfelt dedication of the best movie award to Mexicans in Mexico and the United States. ¡Enhorabuena!" 
"VIDEO: Who Gave Sean Penndejo a Green Card? Latest #RebelReport is Out", R.J. Aguilar for Rebel Report at Latino Rebels 
"VIDEO: Alejandro González Iñárritu habla de su triunfo en Premios Oscar y sobre México", Jessica Carrillo por Telemundo
"Los Angeles loves 'Birdman' director Alejandro González Iñárritu", Michael Cronin for the Sun Times Network
"Iñarritu calls for 'dignity and respect' for immigrants in Oscar speech", Matt Hamilton for the Los Angeles Times
"A Look Back At The Lack of Latinos In Oscar History", Ana Maria Benedetti for the Huffington Post
"Do Latinos really care about seeing faces like theirs at the Oscars?" Tony Castro for La Opinión
"Racism in BOYHOOD is the Worst Kind", Grisel for Write to Right
"Alejandro González Iñárritu Responds to Sean Penn's 'Green Card' Comment", Carolina Moreno for the Huffington Post
"Me pareció chistosísimo: Iñárritu acerca de la broma de Sean Penn (incluye VIDEO)", AP
"Sean Penn's Epic Oscars Fail: Why his green card joke about Alejandro Iñárritu went wrong", Monica Olivera for Mom.me
"Don't Let Sean Penn's Joke Distract You From All That Other White People Stuff At the Oscars", Yasmin Nair for her blog
"Latinos reaccionan ante palabras de Sean Penn", Yahoo / AP