Immigrant Issues are Women's Issues
Photo by Cindia Cameron, 9to5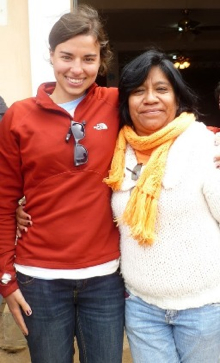 Immigrants come to the U. S. today for the same reason immigrants have always come here – for the promise of freedom and a better life that is America.
We have built our country on the belief that we achieve greatness as a nation when all of us have a fair chance at the American dream. Immigrant issues are women's issues because we need the same things to achieve that dream – decent jobs, the ability to care for our families, security, opportunity, and justice.
But our nation's immigration system is broken. Immigrants often live in the shadows of our economy and our society, subject to exploitation and limited opportunity. In the United States of America, that should be unacceptable.
More than half -- 51 percent -- of all immigrants in the United States are women.[i]The effects of our current immigration system on women include divided families, domestic violence, sexual assault and workplace exploitation and discrimination.
Imelda Gonzalez is facing deportation after living in the United States as a licensed hair stylist for the last 14 years. Her daughter, Tania Valenzuela, said, "I need her close to continue doing my work..., and she has put me through college. She has been my support system. You know, I can't imagine not having her."[ii]
Maria Bolaños, a Salvadoran living in Hyattsville, Maryland, called the police out of fear that her partner was going to hurt her, but instead of being protected by the police, she got turned over to immigration. She said, "I feel like I made a mistake calling the police when I was afraid, and worry what will happen to all the women out there when they need help."
Sixty percent of undocumented women are in the labor force, while the remaining 40 percent are at home caring for their own children and families[iii].  Elena initially entered the U.S. as a live-in nanny under a work visa, and was paid approximately $1.50 an hour by her employer. She found higher paying work for another family in Miami as a live-out housecleaner and nanny where she was paid regularly for the first two years of employment, but in the third year her employer stopped paying her. Elena reported, "She kept promising to pay me, and I kept working. She would give me checks sometimes, but they were bad. I worked . . . without being paid, until she owed me almost $7,000. I thought I had to keep working or else I would not have a right to get the pay she already owed me."[iv]
Now is the time for change! Immigration reform must ensure that women's work and contributions are fully recognized and included, and that our immigration system strengthens families so that immigrant women can be full and contributing citizens of our country.
9to5 has joined We Belong Together, a national campaign to engage immigrant and non-immigrant women in advocating for comprehensive immigration reform. Together – at a Senate hearing on the needs of women and families and over 70 legislative visits – we've shown that women are standing together for common sense immigration reform that will meet the needs of all of our families and communities.
We'll be at the April 10th Citizenship for 11 Million Rally in Washington DC, where the We Belong Together contingent will raise the voices, issues and leadership of women.
9to5 and We Belong Together are advocating for comprehensive immigration reform that will:
keep families together,
protect women workers on the job,
protect survivors of violence and trafficking, and
provide a broad, rapid and clear pathway to citizenship.
We will all benefit when immigrants in our country can fulfill their potential and achieve the American dream.