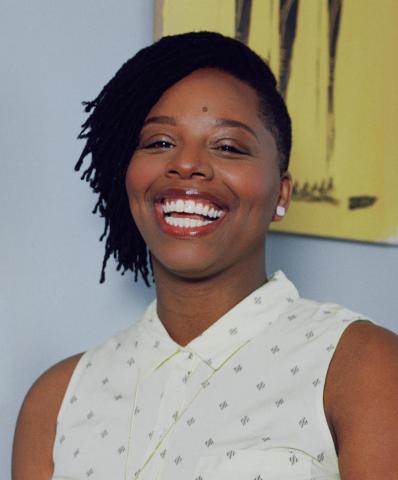 I'm fighting to save mothers' lives. Join me.
Patrisse Cullors is a Senior Fellow for Maternal Justice at MomsRising and co-founder of Black Lives Matter. A project she leads, the "C-section Chronicles," seeks to reduce the stigma that comes with having a c-section and give voice to the many mothers who continue to be vulnerable in hospitals around the country.
Can you support this work, and all our efforts to defend women and families, by making a donation to MomsRising?
Giving birth is supposed to be a magical day, a miracle on earth. But for too many women, especially Black women, giving birth in a hospital is traumatic and life-threatening.
I survived serious complications after childbirth, but Kira Johnson did not.
Kira was in excellent health when she delivered her second child via c-section on April 12, 2016, in Cedars-Sinai hospital. She spoke five languages and was the daughter-in-law of a judge. Still, her and her husband's urgent requests for help were completely ignored by the doctors and hospital staff.
Kira died after childbirth because of medical neglect.
Kira deserved better. All mothers deserve better. Will you help me and MomsRising save mothers' lives by making a donation today?
For the past two years, I've been working with MomsRising to advocate for maternal justice.
It's been a beautiful year, seeing so many women tell our stories, and doing our part to break the culture of silence surrounding medical neglect. And together with allies like Black Mamas Matter Alliance — and MomsRising supporters like you — we've made progress.
Just days ago, due in no small part to pressure from this MomsRising campaign, Congress passed the Preventing Maternal Deaths Act, legislation to help examine and combat the ongoing maternal mortality crisis in the U.S. And the President has now signed the bill into law.
Without a doubt, this work was amplified and strengthened through MomsRising supporters like you.
And we're not stopping until all mamas have the rights, respect and resources they need to thrive before, during and after pregnancy.
Keep Marching for mothers like Kira. Join me and MomsRising in the fight to end maternal mortality in the U.S.
Thank you for all you do for mothers and families, and for your kindness and generosity today.
P.S. If you give by Dec. 31, your gift will be DOUBLED by another donor! Plus, contribute $50 or more and MomsRising will send you the KEEP MARCHING book — a book that's filled with stories and is described as the "perfect primer for women everywhere who want to take action."Thank you for all you do!