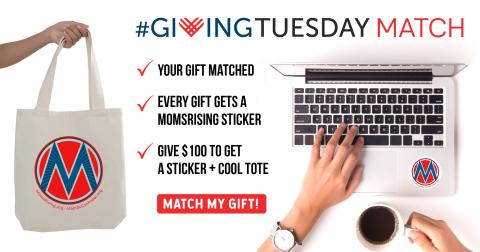 Ignite democracy. Every gift MATCHED!
When moms rise, BIG things happen. Like igniting democracy!
In fact, for the recent elections last week, MomsRising members like you generated a MASSIVE amount of get-out-the-vote energy — by sending thousands upon thousands of hand-written voter postcards to infrequent mom voters, by making personal videos to inspire other moms, by sharing info and encouragement via text message, by hosting parties at the voting polls, and so much, much more.
What made all this possible? Your enthusiastic support helped MomsRising create this massive wave of organizing by and for moms.
Keep Rising, Anita, for democracy, healthcare, gun safety, fair pay, reproductive rights — for a brighter future for women, moms, and families!
To keep up the MOMentum for democracy, we've opened the Giving Tuesday Match EARLY! Become a dedicated MomsRising Champion monthly donor and ignite democracy ALL OVER AMERICA, all year long!
✔ Your monthly contributions matched for an entire year
✔ Every gift gets a MomsRising sticker
✔ Pledge $10/month to get a sticker + cool tote
Can't chip in monthly? Make a one-time contribution instead — still matched $1-for-$1!
Voter participation is vital to every issue we fight for each day. That's why mobilizing mom voters for the 2020 election is one of our top priorities.
We know what works to energize moms. Now we need to scale it WAY, WAY up.
That's where YOU come in.
We need 100 new monthly Champions to Keep Rising for women, moms and families. Are you in?
Remember, a sister MomsRising donor will DOUBLE your donation power for an entire year.
Thank you for your generosity for women and families! We appreciate you and all you're doing to fuel this movement. Thank you.
P.S. This is our BIGGEST matching gift offer of the year. Get in early and turbocharge your MOMentum in 2020. Sign up for monthly giving now — it's easy, affordable and effective!