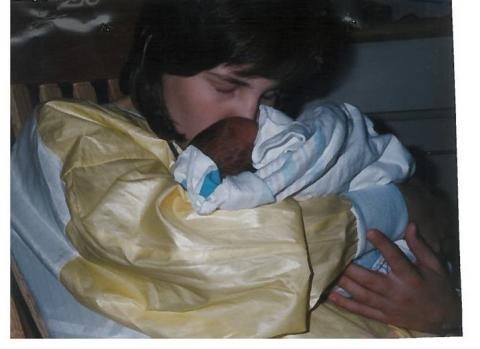 If Senators walked the halls of Children's Hospitals
I work in a children's hospital. The same children's hospital that has provided the complex care my children have needed. Today, I found myself looking at the families in the halls, knowing that their children by virtue of being here would be negatively impacted by #GrahamCassidy. For my family, and for other families who are raising children who have complex health care needs, this health care debate is personal.
The ACA is not perfect, but it was a life-changing, life-saving step forward for my family and for our country.  My two children – Matthew, 20, and Laura, 17 – born with complex neuromuscular conditions, have led a life completely impacted by health policy. From birth, they have required extensive medical care, care so costly that both quickly met the annual and lifetime payment caps imposed by our very good health insurance. Matthew and Laura joined the ranks of millions of Americans whose pre-existing conditions made them uninsurable. My young family was locked into a world of limited choices. We experienced financial hardship because once the insurance caps were met, we paid the tremendous cost of their medical services out of pocket. The safety net did not catch us, our expenses exceeded our income, yet that income was too high to qualify for Medicaid. And we faced long waits for the Medicaid Waivers that provide critical access to home and community-based supports for children and adults who have disabilities.  My husband and I seriously considered both quitting work and even divorce as the best way to get our children the help they needed, as we couldn't continue incurring debt indefinitely. 
The passage of the ACA changed our lives. The day my children were insurable despite their pre-existing conditions, I took a full-time position and enrolled my children in coverage. Simultaneously, our children received Medicaid waivers making them fully insured for their complicated needs.  With the ACA and Medicaid Home and Community supports our children can choose careers by following their aptitude and interests, and not by coverage options or by being forced into institutional placements in order to stay eligible for Medicaid as adults with disabilities. We are, like the families in the halls of children's hospitals, the family for whom policy matters. This is far bigger than sound bites, rhetoric, and politics; health care is life and a system to pay for it is not a luxury. The lives of the 28% of American families affected by these programs must be considered as we find our way forward. I wonder, if Senators walked the halls of children's hospitals, if they knew these families, would we be having this debate at all?