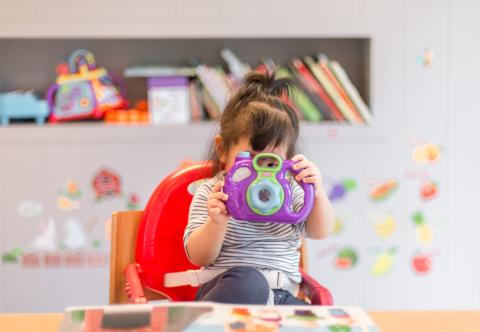 I'd love to recommend my daycare.
    When I re-entered the workforce last year, I went through the process many families with young children are familiar with. I needed to find child care. First I asked my community for recommendations and leads on facilities. 
I read reviews. 
I called around. 
I filled out forms. 
I asked questions.
I interviewed people.
I waited. Some waits would potentially be a few weeks, while others were indefinite. One child care center stopped adding children to their waitlist through the end of 2021.
    Luckily, my child is older - almost 4 - which puts us on a different list because of the ever important child to caregiver ratio. He loves it there and has made a best friend. There is a big playground and a little playground. He comes home with shoes full of sand which, by a child's measure, is the sign of a good time. They open early and close at a good time. He sings songs I don't recognize and tells me he misses his friends and teacher on the weekend. 
I'd recommend his daycare to any other family. Except, I can't. Our child care facility used to have two buildings. Ours had better parking and a perfect drop off for the Pre-K program. Our building hosted Jr Pre-K, Pre-K, and a robust after school program. The other building catered mostly to infants and young toddlers. When you care for infants and young toddlers, you need more staff, which is harder to find these days. And you don't want random people caring for your children, either. So just before the winter break, they made the tough decision to close one building - ours, with the good parking. Fortunately (for us) they moved our class to the other building. Of course, like in many cities across the United States, this left families scrambling to find care for their infants and young toddlers. Because if you're low on staff, the ratios matter even more. We're still working out the kinks with parking, but at least we have child care.
How have your childcare needs been affected? We'd love to hear your story. You can record a brief video here.